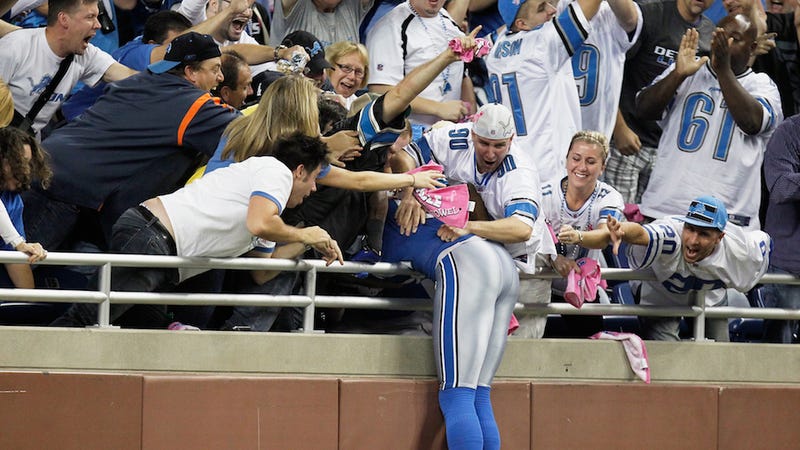 Some people are fans of the Detroit Lions. But many, many more people are NOT fans of the Detroit Lions. This 2012 Deadspin NFL team preview is for those in the latter group. Read the other Why Your Team Sucks 2012 previews here.
1. Nice timing! I can't think of anything more appropriate than the Detroit Lions finally turning into a decent team a mere three decades after the team's hometown has been economically buried and left for dead by the rest of America. I went to Michigan a couple months ago. There are weeds growing out of weeds there. Nature has already fully reclaimed the state. It looks like The World Without Us. The only people who can afford decent Lions tickets are six mildly competent car executives living in Grosse Pointe, and five of them are from Italy.
The fact that Detroit still has four major sports teams is almost a cruel taunt, an evil trick designed by city officials to convince local residents that their town isn't extinct. It's like a Hollywood set where you see the outside of a prosperous-looking building and then walk behind the facade to see nothing but two wooden planks holding it all up. Every loyal Lions fan has had to flee the area to go live in a Florida shipping container. And NOW the Lions finally have the balls to be good? What a dick move. Seriously. What prayer does a Michigan resident have of enjoying your success when the repo man has already come to claim his last can of soup?
2. Awwww, they think they're contenders! I watched the Lions play the Saints in the divisional round, and it was almost sad to see the Lions trick themselves into believing they had any prayer of competing against real teams. They weren't as good as the Saints. They still aren't. This defense gave up 1,612 passing yards in the final four games of the season (Matt Flynn says thank you for the signing bonus!), and they still suck. Jahvid Best's brain scan looks like the surface of a distant moon. The elite teams of the NFC are still much better than the Lions, and they will go on being better after Matt Stafford tears his labrum in 30 places and Calvin Johnson falls victim to the Madden Curse. Remember: THESE ARE THE LIONS. God doesn't allow the Lions to be very good for very long.
Drew Magary writes for Deadspin and Gawker. He's also a correspondent for GQ. Follow him on Twitter @drewmagary and email him at drew@deadspin.com.
3. Cheap shot motherfuckers. It's never a good idea to follow the Raiders' blueprint of penalty accumulation. The strategy of DURRRR IF I GET LOTS OF LATE HITS THE OTHER TEAM WILL FEAR ME DURRRR hasn't worked in ages, so it'll be fun to watch the Lions blow game after game because Ndamukong Suh got flagged for stomping a replacement ref to death during a third-and-11 incompletion. You don't even need a bounty system to get the Lions to behave like idiots. It just comes naturally to them to hit the Fox sound guy out of bounds.
4. Michigan people are horrible. They are racist. They made Fat Drew cry. And the accent. My God, the accent. I don't know how Wisconsin and Minnesota people get pegged for having unbearable accents when Michigan people have accents that are just as bad, if not worse. I remember playing NHL '94 with this kid from Michigan (same racist kid as the story in the link), and every time he cross checked my Alexander Mogilny, he would say, "Oh, you just gaaaaat haaaaaaammerd." Like he was talking out of his goddamn nose.