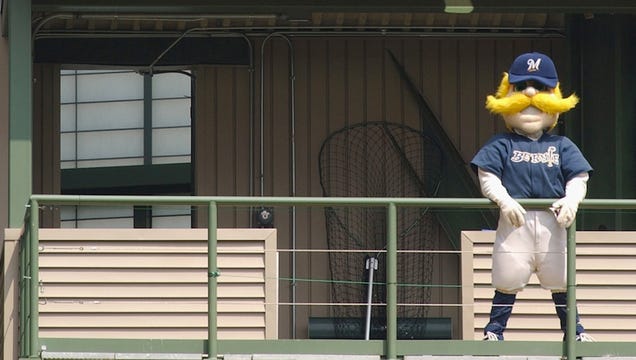 Bernie Brewer is a fun-loving mascot, even by mascot standards. He wears a mustard mustache and brings joy and malty hops to all the children of the greater Milwaukee area. Usually. Sometimes he has a sick sense of humor. Sometimes he's a raging asshole. Like today.
Happy birthday, Randy Wolf!

— Bernie Brewer (@Bernie_Brewer) August 22, 2012
"Happy birthday, Randy Wolf!" Taken in a vacuum, that's nice. Randy Wolf turned 36 today—old by average veteran pitcher standards—and he does deserve happy birthday wishes. But contextualize the tweet with this:
BREAKING NEWS: #Brewers release LHP Randy Wolf, INF Jeff Bianchi has been recalled from Triple-A Nashville

— Milwaukee Brewers (@Brewers) August 22, 2012
Exactly an hour elapsed between the tweets. Bernie Brewer knew. He had to. He sits in on all the personnel meetings, with Geoff Jenkins and Gorman Thomas and Jeromy Burnitz, right? (If this isn't the Brewers' baseball operations task force, it really should be.) Bernie, you bastard.
H/T David.