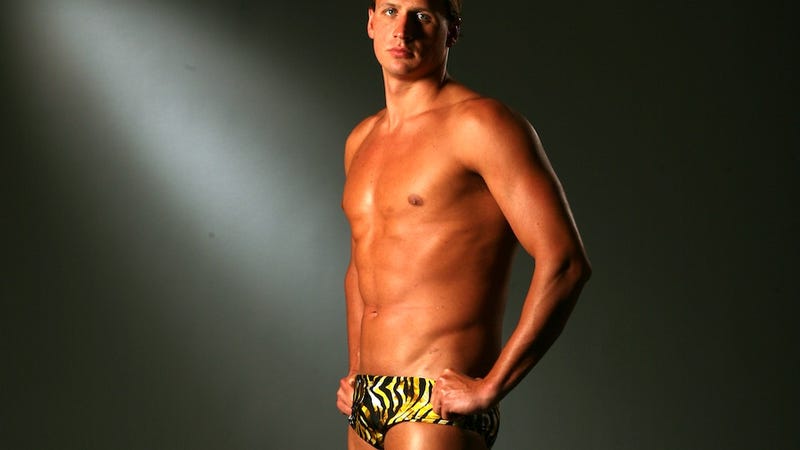 Deadspin is presently in negotiations with a person who is in possession of a photograph of a penis. The penis supposedly belongs to Olympic gold/silver/bronze swimming medalist Ryan Lochte. The photograph is a neck-down bathroom-mirror self-portrait, in which the tip of the penis almost but not quite reaches into the sink basin.
The provenance of the photo is less than ideal. It was allegedly taken for a now-ex-girlfriend of Lochte's. After the Olympics, a friend of the ex began passing the photo along to her friends, and it soon made its way to our source.
We have seen the photograph. The body in the photo is shaved like a swimmer's body, with tan lines from racing trunks. The contours of the torso appear to match the contours of Lochte's torso, particularly the deep crease across the abdominal muscles, angling up at the sides. The position of the subject/photographer's right arm makes it impossible to tell whether Lochte's other distinguishing marks—his Olympic-rings arm tattoo and a prominent pectoral mole—are present. (Photo research suggests, in fact, that Lochte had the pectoral mole removed between the 2008 Beijing Olympics and this year's London ones.)
The arrival of the penis photograph, offered to us for sale, sparked an editorial debate in the Gawker Media newsroom. Do people want to see Ryan Lochte's alleged penis? How much do people want to see Ryan Lochte's alleged penis? Did previous readership numbers for Gawker Media coverage of Ryan Lochte's sexuality reflect transient enthusiasm for the Olympics, or has Lochte become a celebrity of longer-lasting baseline public/pubic interest? Veteran editors disagreed with one another by factors of two or three or more about how many pageviews it might get—and, correspondingly, how much money it should be worth.