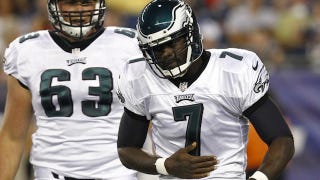 The first, the very first endorsement deal Michael Vick signed when he returned to football was with a company called Unequal Technologies. They didn't approach him; Vick was still toxic from a prison stint and that whole dog-killing thing. Instead, Vick offered up, unprodded, the best advertisement money can't buy.
Vick had missed three games in 2010 with a rib cartilage injury. Upon his return, the Eagles' equipment manager presented him with a chest protector made by Unequal, essentially a flak jacket containing the material Kevlar, best known for its use in military armor. That afternoon, Vick outdueled Peyton Manning, throwing for 210 yards and running for 74 more against the Colts. At his postgame press conference, he said the protector made him feel "invincible."
Rob Vito, Unequal's CEO, approached Vick with a deal in mind, and the quarterback was more than willing. He "didn't want money," Vito told the Wall Street Journal. "He wanted stock." Vick, still earning his way back into football's good graces, was a discount for Unequal, and they quickly got a deal done—one in which Vick, as a shareholder, has a vested interest in the success of the company. After the season ended, Unequal announced a two-year endorsement deal with Vick. Besides the rib coverage, Vick said he was now wearing shoulder and thigh protectors made by the company. He said in a statement:
"The Unequal technology is a part of my game now and I won't play without my Unequal. Unequal's protective power gives me a whole new level of confidence in my game. It makes me feel invincible."
Again, "invincible." Michael Vick has now injured his chest twice since signing his deal with unequal. A set of broken ribs from a hit in a game against the Cardinals in 2011, and bruised ribs sustained during the Eagles' second preseason game earlier this month. This is, decidedly, not the best publicity for Unequal.