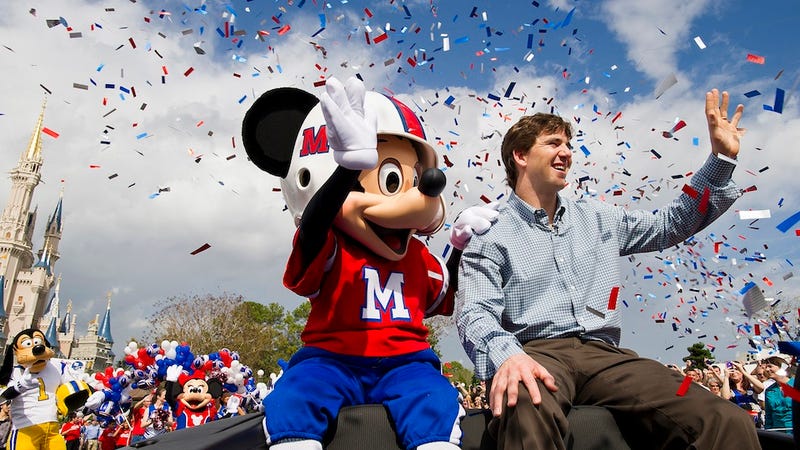 Some people are fans of the New York Giants. But many, many more people are NOT fans of the New York Giants. This final 2012 Deadspin NFL team preview is for those in the latter group. Read the other Why Your Team Sucks 2012 previews here.
1. Because you don't suck. OK, so it's a bit of stretch to say that the Giants suck when they're coming off their second Super Bowl victory in five years. This is a team that has a clutch quarterback, good coaches, a respected owner, a competent front office, and the best pass rush in football. God, how I loathe them. Why can't my team EVER get its shit together like that? Fucking annoying.
You might think that this whole Why Your Team Sucks series is just a grand exercise in trolling. And to some extent, it is. (When Skip Bayless trolls, he's a dick, but when we do it, it's adorable.) But I assure you that there have been moments when I have legitimately hated every team in the NFL, when the kind of hateful shit we've said here about every team in the league has come from a place of true anger and frustration. I hate the other 31 NFL teams when they beat my team, and I hate my own team when it fails, time and again, to win anything. And sometimes, I like that frustration, the way you like torturing yourself with love songs after a bad breakup. It's just nice to CARE, even if caring means you have to watch stupid Eli Manning with his big dumb face luck his way into two Super Bowls while your team eats shit for the 50th consecutive year. You know I heard that he's dumb as a brick? And hung like a Giant Slinky. But dumb as a fucking brick. Stupid Eli.
2. Teacher's pet. I hate that the Giants are essentially the favored sons of NFL headquarters. You can see Roger Goodell creaming his pants with ginger red semen any time he gets to hand the Lombardi trophy to a Rooney or a Mara. Even though this league loves to tout parity, I know it makes Goodell and his flying-monkey henchmen crazy happy when their big major-market team wins it all. The Giants are living proof of the NFL's hidden desire to become more like baseball, with a clearly defined caste system of have and have-nots. It still rankles me that this team got a free extra home game after Katrina struck New Orleans, and then all the asshole Giants fans turned around and shouted "I HOPE YOU HAVE YOUR SWIMMIES!" at visiting New Orleans fans. What a bunch of pricks. The Giants and their fans think they're so fucking classy. Please. These people would throw iceballs at a baby.