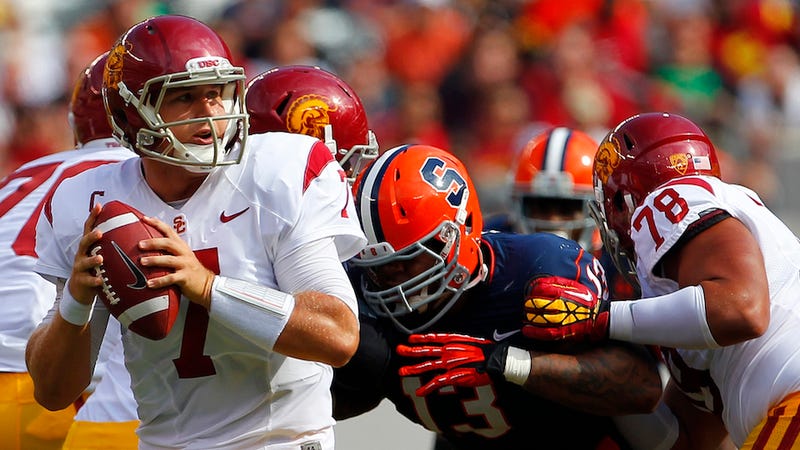 It's time for a new installment of Deadspin's college football rankings. As always, the teams are ranked according to the logic and values of college football, no matter how bizarre or contradictory they may be.
1. Alabama (2-0) Previous rank: 1
Beat Western Kentucky, 35-0. Stifling scoring is the new running up the score.
2. USC (2-0) Previous rank: 2
A week after a mere 39-point win cost the Trojans their top spot in the AP poll, Matt Barkley threw for six touchdowns in the rain on a cross-country trip to play Syracuse at the Meadowlands. The voters in the USA Today poll dropped USC from second to third. Hey, he only had a measly 187 passing yards. So disappointing! Maybe the Trojans would get more votes if the end zones were farther away. Here's ESPN's Gene Wojciechowski reviewing Barkley's six-touchdown performance: "didn't knock anybody's socks off .... not necessarily memorable .... no OMG factor .... he might want to crank it up soon." USC won 42-29. Eventually, the Trojans will be 12-0, scoring 50 points a game, and ranked No. 18 in the polls.
3. [vacant] Previous rank: 3
Did anyone else pass for six touchdowns? No one else passed for six touchdowns.
4. South Carolina (2-0) Previous rank: 4
Beat East Carolina, 48-10. East Carolina is in North Carolina, because South Carolina is west of eastern North Carolina. Western Carolina is also in North Carolina, north and east of the western edge of South Carolina. This is possibly a transcript of Steve Spurrier's mind traffic.
5. Oregon (2-0) Previous rank: 6
6. Michigan State (2-0) Previous rank: 7
7. Ohio State (2-0) Previous rank: 8
Urban Meyer poor-mouthed his team after it rushed for 256 yards against Central Florida. The AP ignored the coach and moved the Buckeyes up two spots in the polls. USA Today ignored the Buckeyes, because the coaches' poll only counts law-abiding teams.
8. TCU (1-0) Previous rank: 9
9. Georgia (2-0) Previous rank: 10
10. Louisiana-Monroe (1-0) Previously unranked
Tied No. 10 Arkansas, 28-28, then prevailed on shootout possessions.