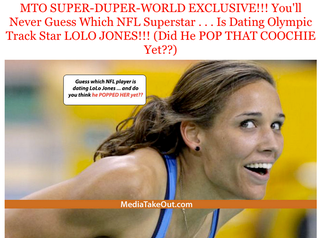 On Thursday, an exclusive came roaring across the front page of the internet: MediaTakeOut.com, long beloved and respected for its crack reporting and evocative headlining, had the exclusive. The full text of their Lolo Jones/Ndamukong Suh love story:
MTO SUPER-DUPER-WORLD EXCLUSIVE!!! You'll Never Guess Which NFL Superstar . . . Is Dating Olympic Track Star LOLO JONES!!! (Did He POP THAT COOCHIE Yet??)

Track star LoLo Jones likes to keep her personal life PRIVATE. You see she's a DEVOUT Christian, and claims to be a VIRGIN.

Well MediaTakeOut.com confirmed that she's now got an NFL superstar BOYFRIEND. According to a TOP MTO snitch, LoLo attended Sunday's Lions game as a PERSONAL GUEST of their star player Ndamukong Suh.

The insider told MediaTakeOut.com, "Lolo and [Ndamukong] have been kickin it for a while, and they are serious. [Ndamukong Suh] is very religious too, and respectful . . . they make a great couple."

Well we're happy for her. And by the sound of our snitch - her VIRGIN COOCH is still in tact.
Rumors spread like wildfire, and Jones's silence had but confirmed MediaTakeOut's "TOP" snitch's contention that she had an "NFL superstar BOYFRIEND." Jones and Suh needed a hero if they wanted to protect their images, and no one seemed to have a bead on the story the way MediaTakeOut.com did. Who would step up?
Lynn Hoppes, that's who. ESPN's primary Dancing With The Stars correspondent was made to report out this one, and that he did: