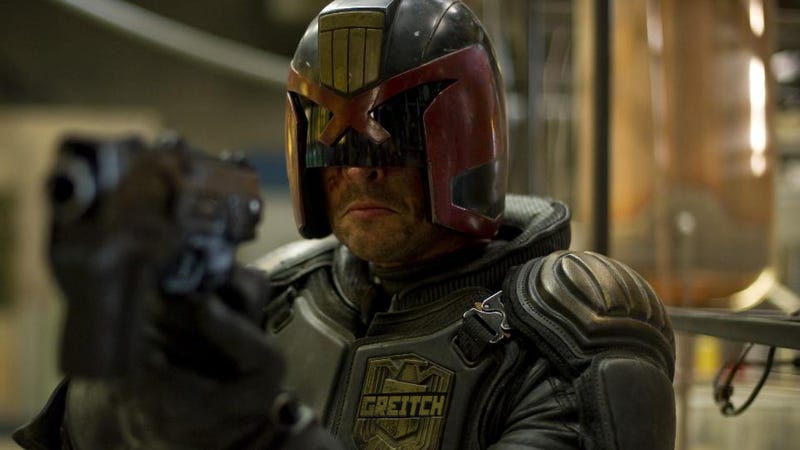 Even a truly morally reprehensible, super-violent movie has its place in the culture. I'm not talking about a film like Dark Knight Rises, which in the wake of the Aurora shootings was the subject of our most recent cultural spasm over Hollywood violence. That was actually a thoughtful, artistic commentary on violence that wasn't all that violent. No, I'm thinking of something like Dredd, which doesn't strive to be thoughtful; it just wants to kill lots of people in the bloodiest ways possible. It's a movie that's Not Good For You; your kids shouldn't see it—but you'll have a blast watching it.
Based on the Judge Dredd comic book character created by John Wagner and Carlos Ezquerra, Dredd was first made into a movie starring Sylvester Stallone in 1995, which was around the time that people decided they were tired of Stallone movies. (Or maybe the nation wasn't prepared to accept Rob Schneider as a comic sidekick in their action films.) The new film returns to what I gather was the key selling point of the original comics. As played by Karl Urban (Bones in the new Star Trek films), Dredd is essentially a futuristic Dirty Harry: He enforces the law without worrying about what a sadistic thug he is. In the movie, Dredd has no back story or character arc—his face obscured by a helmet, we don't even see his eyes—and even when he delivers one-liners after killing baddies, he doesn't do it with any joy. He's here to take out the trash, and in the futuristic, crime-ridden Mega City One, there's nothing but trash to take out, all the time.
The unsmiling Dredd is partnered with a rookie named Anderson (Olivia Thirlby), and Dredd is convinced this kid won't last a day on these gritty streets, even though she has psychic powers. She gets a chance to prove herself, though, when they go into one of the city's towering slums to bust a notorious drug lord named Ma-Ma (Lena Headey). They arrest one of her foot soldiers, whom she doesn't want blabbing to the cops, and so she announces to all the slum's fiendish residents that she'll pay handsomely for the murder of Dredd and Anderson. Pretty soon, you have The Raid: Redemption with less martial arts and a lot more exploding bodies.