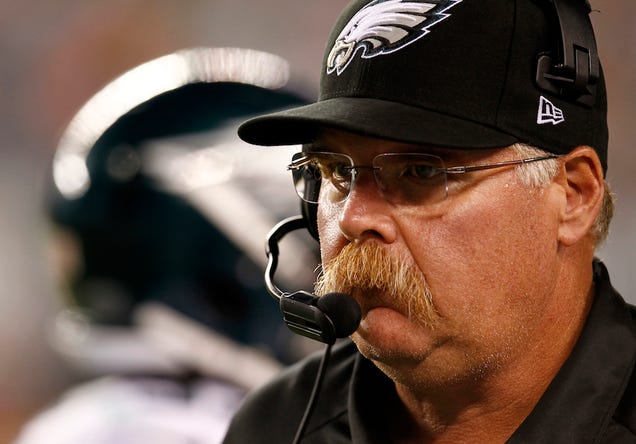 There are three groups of people currently watching football games. The people who just watched their team win and will enjoy the rest of their football watching day. The people who just watched their team lose who will begrudgingly watch football for the rest of the day, carefully planning bathroom breaks around highlights shows. And finally, the people who had to wait three hours for their game to start—which is now! Feel free to swing by the open thread it yak to your heart's content.
Philadelphia at Arizona (FOX): Veteran commenter and football yakker Stev_D has got this game down, in your face analysis style.
@arkansasfred Kolb had this game circled when the schedule came out. He's going to try and prove to Reid and co. they kept the wrong QB.#NFL

— Steve D (@Stev_D) September 20, 2012
@arkansasfred Kolb's practiced against these guys - he knows what a Trent Cole, a Babin, can do. That means he's gettin' that ball out ASAP.

— Steve D (@Stev_D) September 20, 2012
Atlanta at San Diego (FOX): This is a beautiful article right here. It is one entire article devoted to the traveling habits of the Mike Smith-coached Atlanta Falcons and how successful it has proven. 5-0 on the west coast! I know what you're thinking, in the five years Smith has been coach there's been some pretty terrible teams out there right? Nevertheless, Mike Smith took a page from the Brian Billick coaching tree (of which current defensive coordinator Mike Nolan is also a member) and has the team travel on Fridays. It's a big help. We know this because someone spent 550 some words telling us. And then Mike Nolan puts the cherry on top the whole thing with the last sentence.
Added Nolan: "The biggest thing is having the better team."
Houston at Denver (CBS): Houston's all like "Man, I sure am glad we don't have to play Peyton Manning anymore." And then Houston's Buddy is all like "Dude, you're playing him this year." Houston: "Shut up, man. He's gone." Houston's Buddy "Check the schedule, holmes." Houston: "What the fuck?? Fucking Goodell, man. Fucking Goodell." Houston's Buddy: "At least he kinda stinks now..." Houston: "[kicks dirt] Yeah, I guess."
Pittsburgh at Oakland (CBS) Remember the Ian Eagle-Dan Fouts comparison from earlier? Well here you go. The shadows of Darren McFadden and Carson Palmer look to get Oakland's first win of the season against the Steelers. Polamalu and Harrison are out again. Rashard Mendenhall is out again. This has a decidedly 13-3 Steelers win feel to it.
What You're Watching
Via The 506. CBS: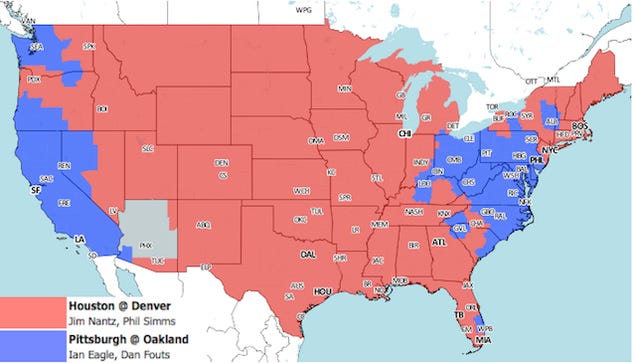 Fox: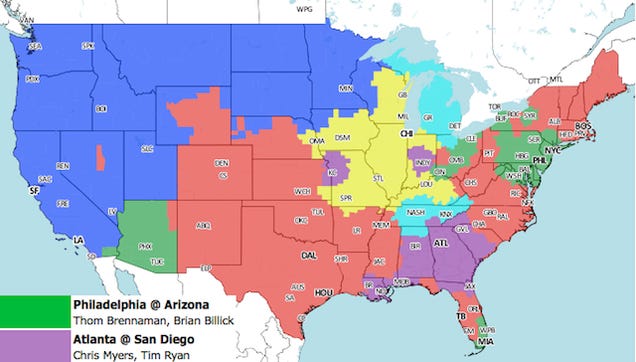 Image by Jim Cooke