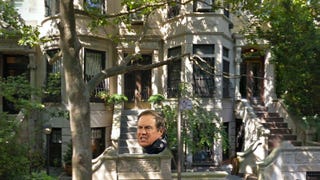 Ah, Park Slope: where diligently hip mothers push extravagant strollers into studiously low-key coffee shops, where you're nobody if you don't get your kale at the most organic of the four farmer's markets on your block, where you retire at 45 after your loosely-defined art collective produces no art in twenty years, something about fixed-gear bicycles goes [here], you get the idea: Bill Belicheck owned a brownstone in Park Slope for six years before selling it sometime in the past month. Weird.
The Observer has the details and speculates on the meaning behind the sale:
On the one hand, Mr. Belichick has made a little money on the sale of the townhouse, netting $2.75 million, according to city records. Not bad considering that he paid $2.2 million for the five-bedroom, three-bath residence back in 2006.

But on the other hand, the house was allegedly a love nest for Mr. Belichick and mistress Sharon Shenocca, whom Mr. Belichick was rumored to have taken up with after splitting from his longtime wife in 2006. Or, if not a love nest, at least a friendly benefit of Ms. Shenocca's close relationship with Mr. Belichick. Whatever the state of relations, or lack thereof, between Mr. Belichick and Ms. Shenocca, their love affair with the Park Slope townhouse is fini.
Is this why Belichick has been so...phlegmatic recently? It is very hard to imagine Bill Belichick spending any time in Park Slope, and harder still to when you hear about the brownstone itself: