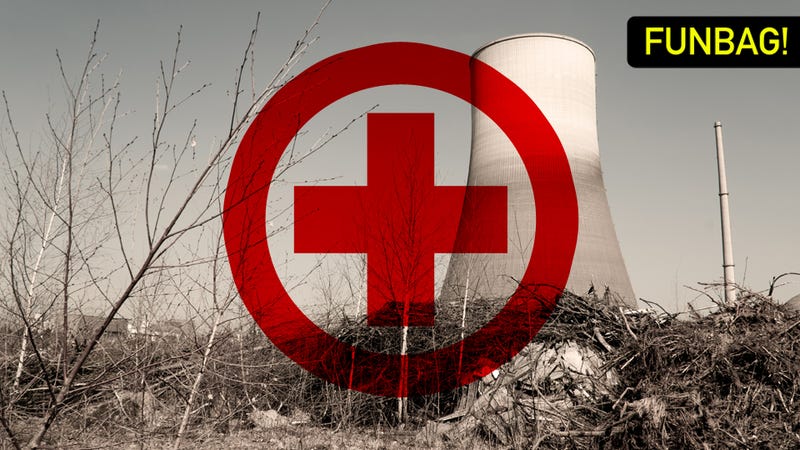 Time for your weekly edition of the Deadspin Funbag. Got something on your mind? Email the Funbag. Today, we're covering the roaches, porn estates, dead NFL players and more.
Your letters:
Meg:
I'm a lawyer, but I work at a newspaper. If there were a nuclear holocaust, I'm fairly certain I do not have one useful skill/talent based on my profession alone. I'm a waste of a human being and need to learn some skills.

But it got me thinking about all of my friends and which of them might actually have useful skills. I'm fairly torn about how to rank them in usefulness...obviously doctors are king, but then what? What about mechanics or accountants...Are there any other useful professions?

How would you rank different professions?
This is why, in general, most writer-types like Jonathan Franzen are insufferable human beings, because they actually think that what they do is important when the reality is that they're remarkably unproductive.
You need to read World War Z for a decent breakdown of which people are the most important in the event of a worldwide catastrophe. But in the event that we have to rebuild human civilization from the ground up, here is a basic breakdown of vital personnel:
· Doctors. As you said, obvious. Veterinarians also apply here because horses would need to be cared for.
· Nurses.
· Military personnel. People who are skilled with arms and have critical experience surviving in harsh environs. If there were a zombie apocalypse tomorrow and some guy in fatigues started bossing me around, I'd obey him without question because I am a sheep. Oh, you need me to build a dike? I see where you're going with this!
· Hunters. Because meat will be so very precious. I read Endurance, by Alfred Lansing, the classic book that tells the story of Ernest Shackleton's fateful Antarctic voyage. Their ship got trapped in ice and they were forced to live on the ice for months and months before splitting into two groups, with one group sailing across the Drake Passage—the single most deadly stretch of water on Earth—and then scaling a fucking mountain on the island of South Georgia to find help. Read that book and you will be DYING to eat a penguin by page 150. Hunters are important.
· Mechanics.
· Carpenters.
· Engineers.
· Farmers.
· Cooks. But let's not glorify chefs more than they've already been glorified. In a future wasteland, I don't need Aaron Sanchez bitching at everyone about using organic toe-mah-teeeee-yos. What we need is the kind of chef you find on a commercial fishing boat, one of those meth addict guys who can whip up a meal for 80 people quickly and without being a pretentious dick about it.
· Teachers/child caregivers. "Children, this is why your parents were incinerated last year."
· Brewers and/or distillers. And I don't mean this flippantly. We really will need people to help make alcohol. We think of booze as a luxury, even a vice. But in the cold, ashy nuclear winter, having a capable brewer would likely mean the difference between hope and despair. Sometimes, people truly NEED to have a drink.
· Blacksmiths.
· Seamstresses.
· Electricians.
· Guys who can, like, build computers and stuff.
· Hookers.
· Laborers.
I'm sure I've missed some, but those jobs represent the building blocks of human society. Every other job out there—writer, politician, ESPN studio analyst, lawyer, drummer—that's the window dressing. That's the shit people get to do as a result of the foundation laid by the group above. Jonathan Franzen will NEVER be more important than a hooker. We NEED hookers. We don't need 500-page novels about troubled white people.
Tom:
I was watching the Browns and Ravens, and Josh Cribbs was down on the field with players and staff crowded around. I found myself wondering, "Will this be the game? Will this be the one where somebody dies on the field?" It's gotta happen eventually, right? Say it happens on a Sunday during an early game. Does the Ginger Meat Puppet cancel any games that day? I'm betting the death game would be cancelled, but no other games would be affected, other than the obligatory moment of silence. Do you think the game changes in any kind of meaningful way if a player dies? Will Easterbrook manage to get even more insufferable?
I don't know that a player dying on the field is a mortal lock. The only NFL player to die on the field was Chuck Hughes back in 1971, and Hughes died from a heart attack, not a vicious hit. And this was back in an age of poorer equipment and far more lenient rules when it came to helmet-to-helmet contact. Players may be bigger and faster and stronger now, but it takes a whole lot to literally kill someone on the field with a hit. Football isn't designed to kill you instantly. It's designed to kill you nice and slow. If anything, new helmets and other equipment are designed to reduce maximum damage on initial impact, so that you can then go out and take even more terrible hits, building up one internal injury after another, injuries that will quickly cripple you and eventually kill you by age 46. But if a player gives you a thumbs up from his gurney, then you are officially absolved from worry.
It's worth noting that the Chuck Hughes game was not canceled. They played the rest of that game with one of its participants stone dead. And that was back in a less media-savvy age. As we discussed back in the "Hey, what if Nick Swisher dies?" edition of the Funbag, if an NFL player were to die on the field, you would NEVER hear him declared officially dead until after the game. And there's no way the NFL would cancel any other games. They'd have a moment of silence and then move on. We can't have any vital disruptions of an NFL team's subcontracting agreement with Sysco industrial catering.