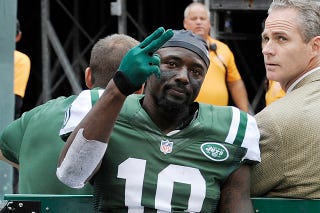 The New York Jets appear to have lost wide receiver Santonio Holmes to a serious foot injury that will cost him the rest of the 2012 season in all likelihood. Yahoo's Jason Cole reported the news Tuesday evening, adding the following detail:
The Jets still aren't sure if Holmes' left foot has a broken left foot, but they are sure that it's a lisfranc injury. That's one of the worst foot injuries possible and makes it 99 percent likely Holmes will miss the remainder of the season. Holmes' MRI results have been viewed by foot specialist Dr. Robert Anderson. Holmes may see Anderson in-person for a second opinion, but that decision hasn't been made yet.
The Holmes injury is, of course, devastating to the Jets offense and would be more so if the Jets had anything even closely resembling a working NFL offense through four games. After Sunday's 34-0 loss to the San Francisco 49ers, the offense is averaging 284 yards a game (28th in the NFL) and scoring barely 20 points per contest (good for 24th overall). The Jets are now staring at a 2-2 record and a remaining schedule that features the Patriots (twice), Houston (4-0), Arizona (4-0), Seattle (on the road), and a frigid season finale in Buffalo on New Year's Eve Eve. All indications, even gamed out with the most optimistic outcomes, would seem to signal a slow and steady slide into sub-mediocrity.
Except, I'm not so sure. OK, Santonio Holmes is out for the year. Darrelle Revis is out for the year. The QB1 situation is a joke, no matter who you think belongs with the starting job. (Greg McElroy groupies? We know you're out there.) But the Patriots and Bills are both 2-2, Miami is starting to show signs of competitiveness that belie its 1-3 record, and expectations have never been lower for the Jets. For a team that's been built on unmet expectations going on four years, this will be the organization's first glimpse of rock bottom in recent memory, which may prove motivating to those who've never seen it before. With regards to the schedule, they still play in one of the weaker divisions in the NFL and The Buzzsaw is, in all likelihood, playing above its pay grade with a 4-0 record. In other words, if the Jets can win the games they're "supposed to," they have a puncher's chance to do something of note by season's end. (And at this point, finishing at, say, 9-7 would surely be noteworthy.)