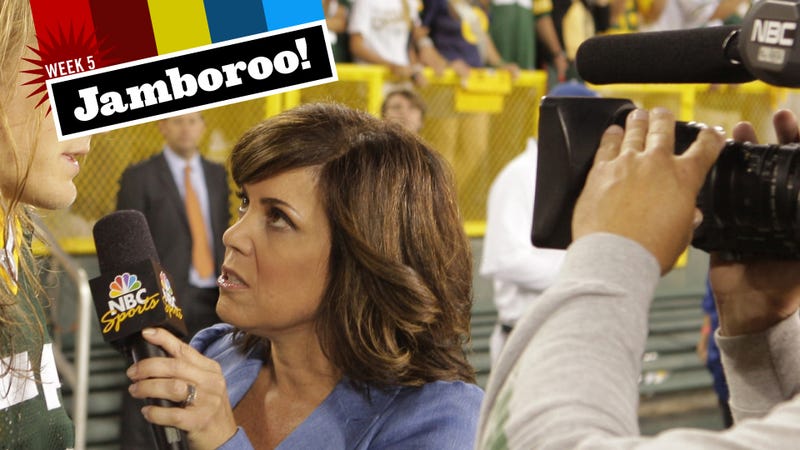 Drew Magary's Thursday Afternoon NFL Dick Joke Jamboroo runs every Thursday during the NFL season.
It's been over six years since executives at CBS, in a rare moment of rational thinking, decided to do away with sideline reporters during NFL games. Since that time, I've never heard anyone complain about the move. There's no one at the local bar who watches the NFL on CBS and cries out, "Whoa hey, where's the juicy anecdote about Eli Manning and his mom's Sunday tradition of cranberry bread-making that bleeds over into vital game action?" No one has ever said that and no one ever will because sideline reporters are fucking terrible.
And what amazes me is that—with the possible exception of ESPN—no other network has yet to emulate CBS's example and phase out the single most useless job in sports. Fox still has sideline reporters, including Goose in his fucking man cave ("I heard that hit from down here, you guys!"). NFL Network uses Alex Flanagan. ESPN uses Lisa Salters on Monday night, though a network spokesman told our John Koblin that Salters is only used "as situations warrant." And NBC is the worst offender of all, constantly cutting to Michele Tafoya to tell you absolutely nothing. Even CBS still uses sideline reporters for virtually every other sport. Why? Why is this still going on? Have we, as Americans, not made it clear to you that we don't give a shit?