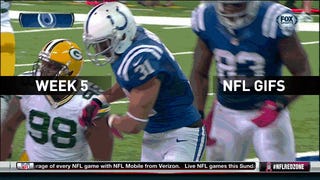 Here's where we're putting the GIFs of the week, from Donald Brown triumphantly trolling the Packers to Brandon Lloyd dancing around like no one's looking.
Indianapolis 30, Green Bay 27: Well DAMN! We had something all written up about the tough day for Colts fans: Andrew Luck sacked 4 times in the first half (we even GIFed the "unnecessary roughness" sack from Nick Perry), Chuck Pagano's email to his team making everyone misty-eyed, an early 18-point deficit against the vaunted Packers. But the Colts were having none of it. Andrew Luck and Co. reeled off 19 straight points to take the lead in the fourth. Down again late, they executed on their last drive, which culminated in a touchdown with 39 seconds left and was capped off by two-point conversion from Donald Brown. Then he did the B.J. Raji shuffle from those dumb insurance commercials. Always great when an NFL player throws an endorsement back in an opposing player's face.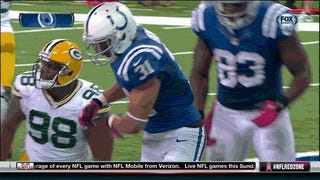 Andrew Luck finishes up the game with 3 touchdowns—two passing, one rushing—and the W in the battle of first overall pick vs. the reigning MVP. And you know what? #CHUCKSTRONG.
New York Giants 41, Cleveland 27: Hey, this was cool, right Browns fans? Dawg pound? You still there? Remember when Ahmad Bradshaw fumbled behind his back on the first play of the game, setting up a Trent Richardson TD? Guys?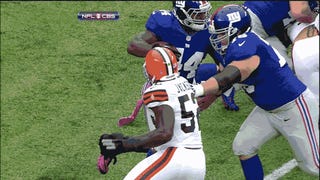 Sorry. It wasn't quite this close—Brandon Weeden threw a garbage time TD to make the score what it was when the game ended—but the Browns offense did some good things in this one. Trent Richardson keeps giving people a reason to watch, and Cleveland racked up 17 quick points early. Still, the Giants extinguished the Browns' upset hopes pretty quickly, and everyone's jokes about waiting for the Browns to blow their 14-0 lead came to fruition faster than the jokesters had even joked about. Ahmad Bradshaw rushed for 200 yards, so yeah. 29-year-old rookie quarterback and all, offense may not be the issue for the 0-5 Browns.
Baltimore 9, Kansas City 6: Not exactly a heartening game on the day Chiefs fans flew a banner over Arrowhead Stadium that read, "We deserve better, fire Pioli, bench Cassel." Strangely enough, the unspoken part of that banner would have to be the coda, "for Brady Quinn," and the fans got their wish after this hit, which sent Matt Cassel to the bench with a head injury. "We are not just losing, we are just getting demolished left and right," said the fan who organized the fundraiser that bought the banner. I'd say Cassel got demolished sort of "front and right" on this one, but close enough.