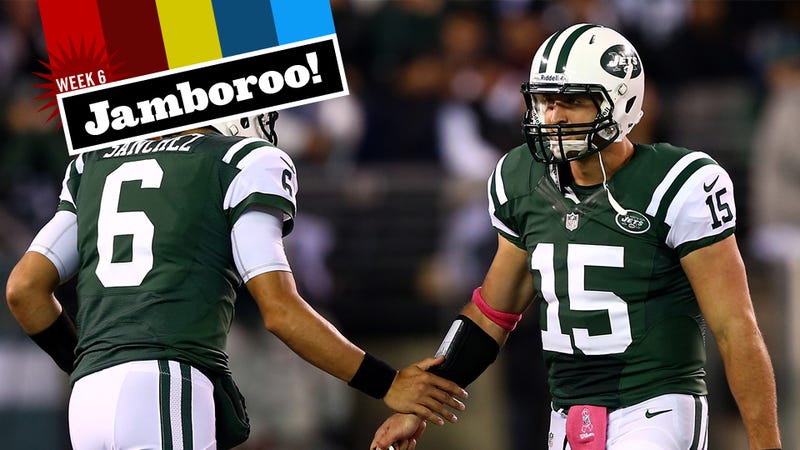 Drew Magary's Thursday Afternoon NFL Dick Joke Jamboroo runs every Thursday during the NFL season.
At this point, Rex Ryan needs to just pick a quarterback and stick with him. The whole strategy of sending in Tim Tebow for a play or two once a quarter is such a massive disruption that it's almost as if opposing coaches implemented the idea. You can see it every time Tebow runs out onto the field. Everyone in the huddle is like, "Oh, hey, this is one of the Tebow plays? Should I be here? Where do I go? Is Shonn Greene playing center in this formation?" No one knows what the fuck is going on. And then the second Tebow's play is over, Mark Sanchez comes SPRINTING back out onto the field to make sure that the offense is still his. Like, "Thanks for taking care of my 'Vette for a few hours, bro. BUT DADDY'S BACK NOW."
Drew Magary writes for Deadspin and Gawker. He's also a correspondent for GQ. Follow him on Twitter @drewmagary and email him at drew@deadspin.com.
Meanwhile, Tebow just ran two yards and is screaming, "LET'S GOOOOOO! ALL RIGHT! TWO YARDS FOR GOD'S GLORY!" And you can tell that he's just waiting for the moment when he goes out onto the field and stays there, without Sanchez coming back to relieve him. And you can see Sanchez desperately trying to prevent it, to reassert himself every time he goes back out. I know the Jets will be fucking terrible no matter which QB they choose—judging by Monday night's game, Sanchez is the least of their worries—but this whole flaming shitwreck is just making things worse. They brought in Tony Sparano specifically to implement this stupid Wildbow package and they can't even get the personnel right. They burned two timeouts against the Texans needlessly because no one knew what the fuck was going on. Just pick a quarterback, Rex. If you're not gonna make Tebow the starter, don't put him in the game at all. All that does is make Tebowtards fap even harder. Choose your fate and go down with it.
The Games
All games in the Jamboroo are evaluated for sheer watchability on a scale of 1 to 5 Throwgasms.
Five Throwgasms
Giants at 49ers: As someone who lived in New York for six years, I would just like to ask the people at P.C. Richard & Son to DIE. DIE IMMEDIATELY. For years and years and years, the New York metropolitan area has been subjected to this company's jingle. It is the single most evil commercial jingle ever devised. You need to hear it only once for the tune to bore down into your skull and reside there for eternity. Sometimes, I'll be sitting there at night and that fucking whistle will pop into my head for no reason and stay there, forever. It's basically a form of headache at this point. They played it over the loudspeaker during the Jets game Monday night and I heard and now it's been in my head all week. It needs to be wiped off the face of the Earth, forever. It is jingle terrorism. I'll vote for any candidate who promises to outlaw the P.C. Richard theme.
Packers at Texans: It's just like the Ginger Hammer to run a series of PSAs showing how the NFL is getting all the beautiful children of the world to play "Heads Up Football":
I guarantee you that all the 10-year-olds in that spot immediately forgot everything they were taught and proceeded to spear the shit out of one another during live game action. That happens with 10-year-olds. They try to "play the game safely," then they realize that bashing fuckers with your head is way more fun. But sure yeah, FOOTBALL IS TOTALLY SAFE NOW, GUYS. Please let your kids play so that the talent pool doesn't dry up.
Four Throwgasms
Vikings at Redskins: Have you seen Kirk Cousins's hair? He's basically an '80s sex-comedy villain. "Those nerds are a threat to our way of life."
Cowboys at Ravens: I usually watch the NFL Network highlight show that comes on at 7:30 p.m., but I found out last week that the NFLN highlight show that comes on after the Sunday night game has NO Mooch on it, and that's a goddamn blessing. I can take Deion and Marshall Faulk and the Stabmaker Michael Irvin in his "intelligent person" glasses blabbering on over highlights, but Mooch is the fucking WORST. He tries so hard to be all fun and zany and it makes me wanna die. One day, he'll get a low-end FBS coaching job and go 6-6 five years in a row before getting fired. I very much look forward to it.
Three Throwgasms
Rams at Dolphins: The other night I was playing outside with my kids when I came up with the idea of playing a bastardized version of Red Rover. I had them stand at one edge of the yard, and whenever I shouted RED ROVER RED ROVER COME OVER, they'd try to make it to the other side without me tagging them. I can't play football anymore. I can't even play touch football because the last time I played I ended up in back surgery. So Red Rover is as close as I'm gonna get to live game action, and it is AWESOME. When the kids come sprinting at me, I break down like Ray Lewis and NEVER get faked out. The kids have no chance. And then when it's my turn to run, I can put all kinds of crazy moves on the little fuckers and they fall for it EVERY TIME. I can fake to the left and then blow right past them. It's exhilarating. I'm able to get separation so quickly that I can just waltz to the end zone. Sometimes, I high-step it in, or I turn around and taunt my children as I'm walking backward to safety. I even put a spin move on my kid the other day. It's the greatest thing ever. I feel like Barry Sanders.
And sometimes I let them win, but even that's satisfying because I know, deep in my soul, that they won only because I let them. If I wanted to, I could crush them at any time. And that's a nice thought. RED ROVER ALL DAY, BITCH.
Broncos at Chargers: I bitched about sideline reporters last week, but even worse is when MNF cuts to Stu Scott on the field to tell you what's coming up on SportsCenter after the game. I know what's on SportsCenter after the game: SHIT. You don't need to tell me. And you don't need to cut to Stu Scott on the field to let me know. Five seconds of that idiot is five seconds too many. STRAIGHT FLEXIN'!