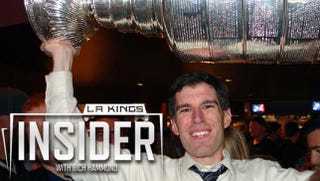 Rich Hammond covered the Kings for the Los Angeles Daily News for nearly a decade, becoming known as one of the most respected writers in the sport—even in a town with Helene Elliott. But hockey being hockey, and dying newspapers being dying newspapers, the Daily News decided it was no longer cost-effective to send Hammond on road trips. The Kings, for 41 games a year, would have no coverage in the second-largest city's second-biggest newspaper.
Sick of this, the Kings approached Hammond with an offer: come write for us. And Hammond did, in 2009, leaving the Daily News to become a Kings employee. He was promised full editorial independence, and promised to keep doing what he had been doing, but the unique arrangement naturally raised a lot of eyebrows. Could Hammond remain unbiased against the people signing his paychecks? Would the team be able to avoid meddling in his coverage? Hammond was mindful from the start. In an interview he gave when his hiring was announced, he made clear that he wouldn't stand for any pressure from above, and his work would bear it out.
"There was no getting to that point where they said, 'OK, we'll let you be objective.' That was the starting point-that this is going to be independent, it's not going to be censored, it's not going to be filtered."

[...]

"It's my credibility," Hammond continued. "I'm the one who has to show people that I'm worth reading. I'm very mindful of that, but I'm also confident that everything will be fine."
And do you know what happened? In the three years Hammond was writing LA Kings Insider, I don't recall one instance of anyone claiming he was anything less than objective. It's a testament to his professionalism, and also to the forward-thinking Kings, who have mastered this internet thing a lot better than every other team.