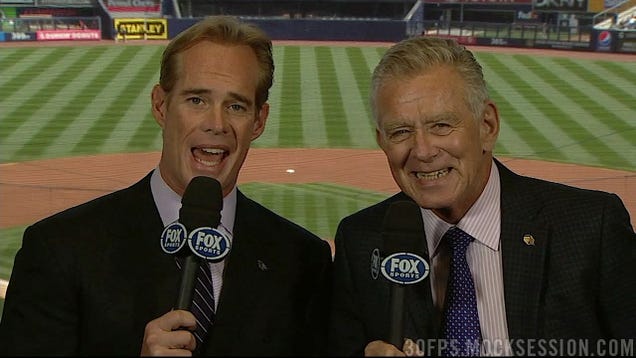 Joe Buck is a lot of things, but lazy does not appear to be one of them. He will work both the San Francisco 49ers-New York Giants game at 4:25 p.m. and the San Francisco Giants-St. Louis Cardinals game at 8:15 p.m. (both times eastern).
Candlestick Park, where the 49ers play, is in the southeastern corner of the city and AT&T Park, where the Giants play, is in the northeastern part of the city.
Buck plans to arrive by cable car at AT&T Park after calling the football Giants' game.
But what if he is late, or the football game goes into overtime? Fox will have a Joe Buck understudy to fill in while he hustles over to AT&T park, right?
If Fox's Joe Buck is delayed in arriving at AT&T Park in time for NLCS Game 1 from Giants-49ers game, Tim McCarver will start game solo.

— Neil Best (@sportswatch) October 14, 2012
Oh, oh God no.
Joe Buck to do Giants-49ers, Cardinals-Giants doubleheader [Newsday]