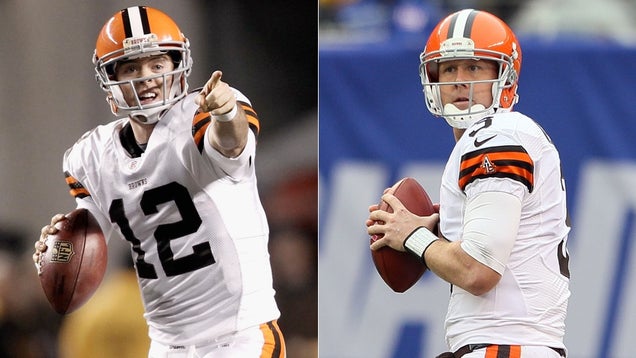 S
The Browns aren't that bad. We told you that last week, before they defeated the Bengals on Sunday, but if you needed more proof, here it is: vice-presidential candidate Paul Ryan visited Cleveland's practice facility today. (Ryan's a diehard Packers fan, but politics compels people to do strange things. Condoleezza Rice was also there. She got her picture taken with Trent Richardson.)
Here's what happened when Ryan rolled in, per the Plain-Dealer:
While addressing players, Ryan praised Weeden, whom he recalled watching play for Oklahoma State, according to a pool report.

The only problem: The Wisconsin congressman was pointing to McCoy.

Ryan pleaded for mercy when he realized his mistake.

"You always had your helmet on," he said of the redheaded Weeden.
Browns linebacker Scott Fujita confirms:

Today's locker room laugh from practice was hearing how Paul Ryan looked Colt McCoy dead in the eye & said "great job at Oklahoma State"

— Scott Fujita (@scottfujita99) October 17, 2012
This is the second time Weeden has tripped Ryan up: at a rally in August, the congressman called him "Brendan Wheaton." But it's understandable that Ryan spends so much of his time thinking about Weeden. Ryan has an ambitious agenda for Social Security and Medicare, and Brandon Weeden is 129 years old.
Paul Ryan visits Cleveland Browns practice, mistakes Colt McCoy for Brandon Weeden [Plain-Dealer]