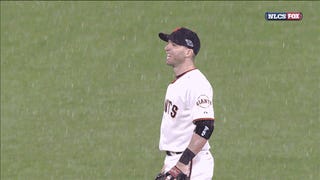 How many LCS clinchers, not involving your team, do you actually remember? Carlos Beltran standing stock-still, Aaron Boone going deep, Sid Bream's slide, Chris Chambliss's homer...and that's probably about it. It's probably fair to add last night's Giants win, a 9-0 drubbing that was decided by the third inning—surely the most boring of all the memorable Game 7s. Yet one of the most magical as well, thanks to a giddy crowd, an improbable team, and a downpour.
The rain is your NLCS MVP, turning the ninth inning from routine to cinematic. This was Shawshank Redemption rain. Unforgiven rain. Jerry Goldsmith's theme from Rudy should have been playing. A fielder's choice groundout is eclipsed by Marco Scutaro spreading his arms and exhorting the sky to come down. The usual closer's celebration goes from obnoxious to inspirational, as Sergio Romo pumps and screams and you can see each individual drop fall. All that came before, the elimination games, the 162-game season, cleansed. Four to go.
It was the first rain in the Bay Area in more than four months, and it could not have come at a better time. Any earlier, and crew chief Gary Darling (who's already called a curiously timed rain delay in this series) would have had to call for the tarp. Any later, and we would have missed out on nine giddy fielders and 43,000 hardy fans treating rain not as adults are trained to, as an annoyance, but like a kid might— as something fun and beautiful meant to be embraced and played in, not taken cover from. There isn't a single person in attendance last night, no matter what chills and colds may come, that won't treasure their three outs in a sort of Woodstock-by-the-Bay, sharing not only their fandom but their misery and delirium and discomfort and oh my god the Giants are going to the World Series.