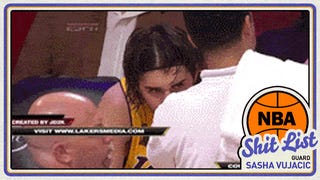 A celebration of the NBA's most infuriating players, both past and present. Read other NBA Shit List entries here.
Let's start with a disclaimer: I'm not a devout NBA fan. The NBA is not my strongest writing or speaking topic. I confess this for an important reason. Despite my minimal knowledge, ever since I became aware of Sasha Vujacic, I've loathed him intensely.
Sasha Vujacic transcends the game. You do not need to grasp the nuances of pro basketball in order to despise Sasha Vujacic. You don't even need to watch the NBA. Just go ahead and do the one thing everyone told you not to, and judge this book by its cover.
I feel like Rob Riggle. Every time I see Vujacic's stupid face, I want to hit him in the suckhole, and there's nothing he can do to alter those sentiments.