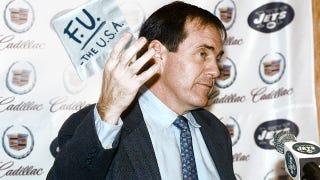 Another week, another fast and furious beginning. We've got nine games kicking off in just a few minutes, so for those of you who shelled out for RedZone, well played. For the rest of us, Game Breaks, sponsored by State Farm Or Whatever!
New England at St. Louis (CBS): I imagine Londoners will be quite torn on this one. On one side of the field—it is a field—you have a team named in honor of the upstart American rascals that told the King of England to go fuck himself in the most eloquent of ways—instead of say, on a napkin in all abbreviations—hailing from one of the more vocal colonies in the rebellion. On the other side, a team from a city named in honor of a French King. Maybe they'll just go with The Meteor.
Carolina at Chicago (FOX): The Panthers are in a state that could generously be described as "of flux." Or, more realistically, "of garbage," if "state of garbage" were a phrase people commonly used. The team just fired its GM. The quarterback leads the team in rushing yards, turnovers, sad faces and Monday-morning-paternalism. It's a telling sign just how far the last son of Krypton has fallen when you're playing Jay Cutler and all the media wants to talk about is the immaturity of the other quarterback. But, maybe there's Cam's hope. All he needs to do is knock up some C-list reality show has-been and Rick Reilly will be falling all over himself to make some law of gravitation puns on whatever that Monday Night Football post-game served by Sabrett is called.