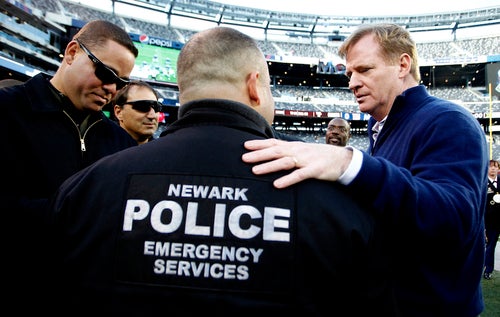 Image via Getty
Whenever a call goes against a fan's-or degenerate gambler's-chosen team, he or she needs answers more palatable than "the refs messed up." One of those reasons is always that the fix is in. In times of natural disaster or other hearstring-tugging moments it only makes more sense to these people. The idea being that it makes for a good story because if the team located in a recently ravaged area gets a win it will…somehow make things nicer for the people in that area and those in charge of officiating the game somehow care about that? I don't know, we're talking about people who paint their chests and/or willfully agree to part with large sums of money based on the outcome of a sporting event.
So, when the Giants got a few friendly calls against the Pittsburgh Steelers, most glaringly a questionable fumble recovery touchdown before the end of the half, it was of course because the NFL wanted the Giants to win so people in the New York area could forget about their house-turned-houseboat.
Donate to hurricane sandy part of your donation goes to the refs paychecks for bonuses to win the game for the giants

- Kyle Jarvis (@jarvy0486) November 4, 2012
NFL is doing everything in their power to make sure the Giants win because of Hurricane Sandy. #SadButTrue

- Kyle Nicholson (@kNicholson18) November 4, 2012
this game is fucking rigged for the giants cuz hurricane sandy!! Those calls were absolute bullshit! #WTF #SteelerNation

- Mike McCullough (@MIke_McC_20) November 4, 2012
NFL wants giants to win at home because hurricane sandy! I fuckin knew it

- Doof. (@Doof__) November 4, 2012
Hurricane sandy points for the Giants #bullshit

- Alex Bachman (@BigBach43) November 4, 2012
The Refs are giving the giants the game because of hurricane Sandy. Just like they gave the knicks the win against the heat.

- Hank De La Cruz (@ElHankDiddy) November 4, 2012
Just cuz hurricane sandy hit new York doesn't mean the refs can give the giants the game

- Zach Rupert (@zrupert6) November 4, 2012
OF COURSE the fix is in for the Giants!!Everyone wants a feel-good story after this Hurricane Sandy devastation

- Angie Kozak (@Angie_Kozak) November 4, 2012
Dead ass the refs are probably sucking off the giants because of hurricane sandy…

- Gavin McCann (@Gj_McCann) November 4, 2012
Most egregiously, however, is that an actual paid broadcaster has apparently gotten in on the Sandy For The Giants act. David Tuckman is a commentator for Sky Sports and multiple users tweeted their surprise at his remarks regarding Sandy's hand in the Giants' good fortune.
David Tuckman,aNew Yorker just said on SkySports NFL coverage that it looks like a lot of hurricane Sandy calls being made for Giants

- trimmgi (@trimmgi) November 4, 2012
@george_h9 did you hear Tuckman in the studio? Giants getting all the decisions cos of hurricane sandy, oh dear. #SackedInTheMorning

- Baris Senturk (@BarisSenturk) November 4, 2012
The idea that home officials are favouring the giants to make the hurricane sandy victims feel better is ridiculous. Shame on you sky sports

- Loz Garnett (@WizardofLoz) November 4, 2012