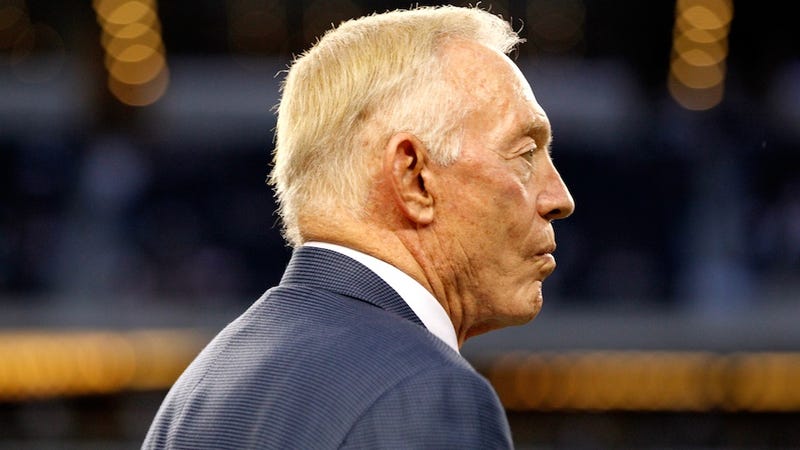 The Cowboys lost last night, but that's not good enough to sate the bloodlust of fans who want them to lose spectacularly, or painfully, because Dallas used to be good 15 years ago. Tony Romo didn't cooperate, failing to turn the ball over even once, let alone at a crucial moment late in the game. Luckily for us, Jerry Jones is physically incapable of not embarrassing himself.
Matt Barrie of NBC 5 in Dallas witnessed a furious Jones trying, unsuccessfully, to get into the Cowboys' locker room after their 19-13 loss in Atlanta.
Picture it. A 70-year-old billionaire, ready to tear into his team for falling further out of the playoff picture, and he can't open the door. Perhaps banging on it, yelling in his Arkansas drawl, wondering on an existential level how much money or hands-on control of your team you need just to get postgame access. Or maybe he was pushing when he should have pulled.
The lockout wasn't intentional—this wasn't a prank, or a mutiny—and Jones eventually got inside to talk to reporters. He's still high on Jason Garrett, and claims he didn't even realize Sean Payton will be a free agent this offseason thanks to his voided contract, which is a total lie. But if there is a front office change to be made, maybe it starts with the guy making the personnel decisions—general manager Jerry Jones! Asked by Bob Costas if he'd have fired himself as GM, Jones replied, somewhat cryptically: