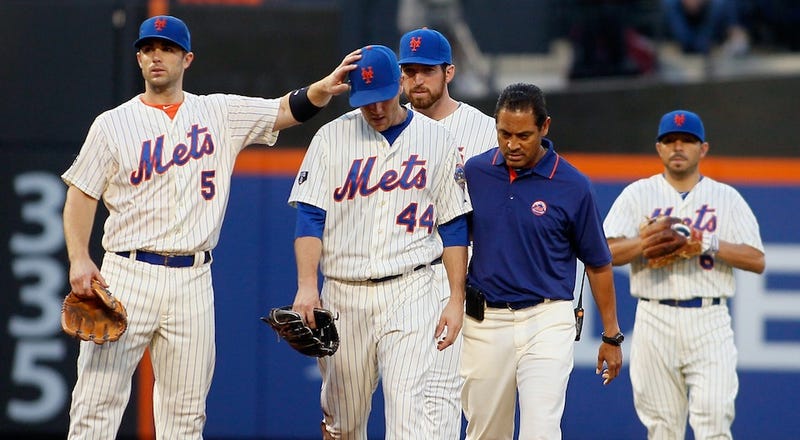 One never likes to cheer a breakup, even if the pair was wrong for each other from the get-go, and even if the pair deeply, habitually wounded one another. A breakup is a failure. It's pathetic. It's time wasted, and we have so little of it on this earth.
But holy mother of god, yes, yes, Boxing Day has come early—the Mets are ditching Jason Bay!
The Mets announced in a statement that they have reached an agreement with Bay to terminate his contract two years early, granting Bay unconditional free agency.

Financial terms were not disclosed.
When Bay arrived, before the 2010 season, he was general manager Omar Minaya's last desperate patch for an aborted dynasty that had aged far too quickly.
After 2009, the Mets were reeling: injuries to Carlos Delgado, Jose Reyes, and Carlos Beltran made it clear that the roster was crumbling, the Madoff mess had made it clear that the owners had very little money, and the construction and opening of Citi Field had made it clear that the team had insufficient business and aesthetic sense. What was the solution? Ah, of course: Throw $66 million over four years to a right-handed power-hitting corner outfielder, the kind of player who declines rapidly with age. Bay's contract soon became one of the cool albatrosses that aided the Mets to successively worse records in 2011 and 2012 and kept them from re-signing Jose Reyes after last season.
To be fair to Minaya and the Mets: no one could have predicted Bay collapsing in the fashion he did. He had a 134 OPS+ in his final season in Boston. He had 29 doubles, 36 homers, and 94 walks—he finished seventh in MVP voting. He turned 31 in September. The next year with the Mets, he was having a so-so but not catastrophic go of things—in 95 games he hit .259/.347/.402, with six triples and a bunch of doubles—when he collided with a wall at Dodger Stadium and suffered a concussion, along with a neck injury. (Traumatic injuries are a recurring theme with Bay and with the Mets.)