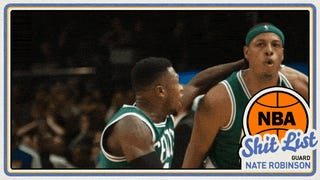 A celebration of the NBA's most infuriating players, both past and present. Read other NBA Shit List entries here.
For the 2009 season, Mike D'Antoni introduced a new motto for the Knicks. Written on the locker room greaseboard before every game, it read "Be terrible. Don't be stupid." It took 12 games before Nate Robinson heaved a three at the buzzer toward his own basket. Nate, no!
It went in, like Nate always knew it would. (He is always "Nate," and just "Nate." The AP-style "Robinson" is incongruous for the sprite whose maturity didn't quite exceed his stature. The Times' "Mr. Robinson" felt more like a practical joke that they were only half-in on.) The bucket didn't count because it was released milliseconds after the buzzer sounded, sparing the scoresheet but not anyone's blood pressure. He couldn't have known he wouldn't get the shot off in time. He took it because he saw no other option—the quarter essentially ended, the ball in his hands, a hoop right there. Nate's universe is purely deterministic, even if our laws of physics and rules of basketball don't always cooperate. Mike D'Antoni knew this, because to know Nate is to accept him, but couldn't help remind his player that actions have consequences. "He was like, 'What if it went in?'" Robinson said. "I was like, 'My bad.'"
This is the fundamental hurdle to "coaching" Nate Robinson, or rather lightly suggesting that whatever the thing he just did isn't something he should try to do again. He is medically incapable of picturing an unfavorable outcome for any of the possibilities racing through his mind like so many gerbils on Adderall. No-look pass to somewhere within a 10-foot radius of a wing who's not even paying attention? It'll work out somehow. Thirty-foot jumper with two men on him and 15 seconds left on the shot clock? That'll look so cool when it goes in. Nate believes in his precious little heart that he will make every shot he takes. And if he should happen to miss (which he does with horrible regularity), it's not his fault. Like for Vladimir and Estragon, there's nothing to be done. Mike D'Antoni's motto was wasted. Nate doesn't even grasp the concepts of terrible or stupid.
He doesn't know short, either. Here is a non-comprehensive list of things that Nate Robinson has jumped on or over. Spud Webb. Dwight Howard. An unsuspecting Shaquille O'Neal. An oblivious Paul Pierce, who still may not know what that buzzing noise in his ear was. A naked Malik Rose, over an unpaid NFL bet. "A Playboy Bunny dealer who was seated at a blackjack table." Very few of these were good ideas, yet for Nate, the simple fact that he could meant he must. There is no free will in Nate's world.