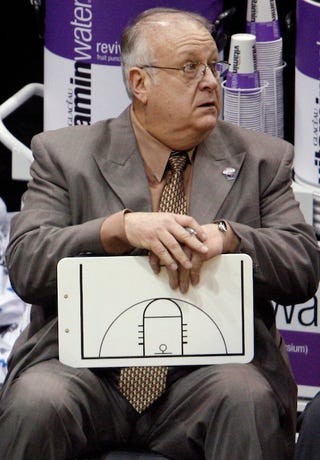 The U.S. attorney's office, which began conducting an investigation into allegations against Bernie Fine one year ago this month, announced this morning that it was closing that inquiry and filing no charges against Jim Boeheim's former longtime assistant, who had been fired in the wake of the allegations. We remind you that things could have turned out differently were it not for ESPN's Mark Schwarz still sat on credible evidence about Bernie Fine for eight years.* But more on that in a bit.
First, here's the Syracuse Post-Standard:
Prosecutors provided no details about the evidence, saying they're prohibited from disclosing such information in a case in which no one is being charged.

They wouldn't comment on whether they believed the accusers or found their stories to be fabrications. They also wouldn't comment on whether there was any evidence that Fine molested anyone.

Prosecutors said they're making a rare exception by publicly acknowledging that the investigation's over. That's because it became public knowledge when Secret Service agents and Syracuse police were seen executing a search warrant at the Fines' home last November, [executive U.S. assistant attorney John] Duncan said.

[...]

Fines' daughter, Sheila Fine, called a reporter and said the family had heard the news. "Nobody has s—- to say to you. How stupid do you feel now?"
Not that stupid, actually. None of this is really that surprising. Child sexual abuse is typically a state crime; the feds ordinarily only jump in under certain circumstances, such as if the accused and the victim crossed state lines. It's not clear what caused the feds to get involved; only one of Fine's four accusers, Zach Tomaselli, said publicly that Fine had abused him outside of New York state. Tomaselli, however, later admitted he lied and that he never even met Fine. Another accuser, prison inmate Floyd VanHooser, also acknowledged he made up his allegation.