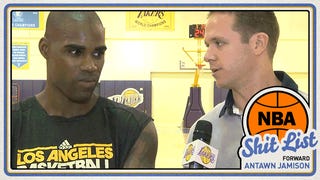 A celebration of the NBA's most infuriating players, both past and present. Read other NBA Shit List entries here.
What happened to the Lakers this year? The would-be superteam lurched out to a 1-4 start, trampled its coach, and is frantically preparing to reverse its entire offensive philosophy. It's still possible for Dwight Howard, Steve Nash, Pau Gasol, and Kobe Bryant to win 70 games—they just need to win 26 in a row to get on pace.
Yes, in retrospect, it makes sense that a newly assembled collection of veteran stars wouldn't figure out how to mesh right away—particularly in an unfamiliar and demanding offense. But there's an even simpler explanation for how a spectacularly talented roster turned out to be a disjointed, disappointing, coach-killing shitshow: The Lakers signed Antawn Jamison.
Antawn Jamison is basketball death. Not everyone understands this, because there are two Antawn Jamisons in the NBA. The more famous one, the image in the public eye, is a gentleman athlete—an elder statesman since his 20s—who upholds the truest values of the game. He's a leader, a sometime high scorer without unseemly swagger or flash. He is, by popular consensus, a class act.
The other Antawn Jamison is less well known, though he's been in plain sight. That Jamison is a loser. He is a persistent, pernicious, chronic, insufferable loser, an itinerant franchise-breaker, a man who has spread failure and misery coast to coast and back again, from his rookie year with the depressing 21-29 Golden State Warriors through his current employment with the flailing 3-5 Lakers.
Remember young Shaq's weird, callow, inscrutable-as-to-irony-level boast that he had "won at every level, except college and pro"? That is Antawn Jamison's actual resume. He took two loaded North Carolina teams to the Final Four, and lost in the semis both times—the second one to Utah. (But he was, to be sure, the Naismith Player of the Year.) In his 14 previous pro seasons, his teams have won a total of 15 playoff games. On the world stage, he won a bronze medal with Team USA at the 2006 FIBA championship.
Some players are so great, they can raise even a terrible team to adequacy all on their own. When Jamison is the best player on a terrible team, it stays terrible. Three different franchises have gone 19-63 with him leading the way: the 1999-2000 Warriors (his first midseason coach-firing), the 2008-09 Wizards (another midseason coach-firing), and the 2010-11 Cavs.
But as the Lakers are discovering, it's with the talented teams that Jamison truly has built his legacy. In 2003-04, he went to the upwardly mobile Dallas Mavericks, accepted a bench role, and won Sixth Man of the Year. Yet that team—with Dirk Nowitzki, Steve Nash, and Michael Finley—washed out of the first round in five games. He moved on to Washington, for the brief, incandescent peak of Gilbert Arenas. His teams made it out of the first round once in four tries.
Then Arenas and the Wizards fell apart, and Jamison was sent to Cleveland for the stretch run in 2010, the Cavs' last shot at a title with LeBron James. Remember LeBron's final playoff series as a Cavalier, the stinkbomb that lives on in mystery? In the closeout loss to Boston, James did put up a triple-double—while Jamison went 2 for 10 with five rebounds, no assists, and two free-throw attempts.
None of this was ever Jamison's fault. Certainly you can't blame Jamison for Arenas blowing out his knee, bringing guns to the locker room, and getting suspended for a year. He just happened to be there, the way he happened to be there for LeBron's meltdown, the way he happened to be there when Team USA lost to Greece.
That is to say, the way Typhoid Mary always happened to be in the kitchen when people got sick. Hey, she was perfectly healthy! Nothing wrong with Mary! How could it be her fault that the people who ate her food kept dying?
And how could Antawn Jamison be a loser? He's so passionate about winning that he once smashed a fruit plate in the locker room while bawling out his Wizards teammates for their lack of effort. The press could hear his tirade from outside. It was impressive. The Wizards kept losing.
The puzzle is why this is a puzzle at all. If you peel away the team-captain rhetoric, the audience-pleasing curmudgeonly complaints about the underachieving young pups around him, you are left with Antawn Jamison as a pure basketball type—the type who heaves up a ton of low-value shots, pumps up his numbers, shies away from contact, and categorically refuses to play defense. He is, in plain basketball terms, the living caricature of what fans are supposed to hate about the pro game.
Here's Cavs: The Blog, reviewing Jamison's second-to-last* season in Cleveland: