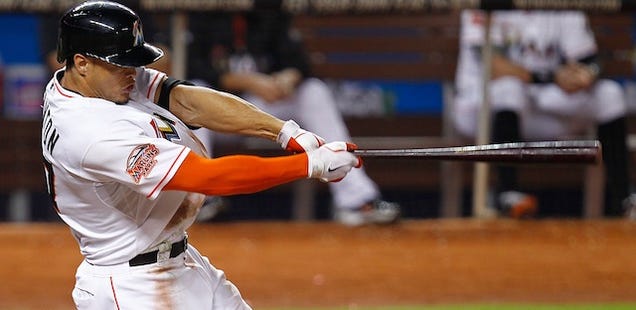 Giancarlo Stanton, the only good player left on the now decimated Miami Marlins roster, was not happy about his team trading away all of its good players. As we told you last night, he expressed his displeasure on Twitter:
Alright, I'm pissed off!!! Plain & Simple

— Giancarlo Stanton (@Giancarlo818) November 13, 2012
A savvy opportunist, Bryce Harper saw a chance to extend a light-hearted invitation to Stanton:
@giancarlo818 you can always come play for the Nats! We will take you anytime! Get some red, white, and blue in your life!

— Bryce Harper (@Bharper3407) November 14, 2012
Stanton let that tweet hang without a reply for almost an entire day, before replying with this wonderfully constructed response:
That is how you do wordplay, Twitter users.