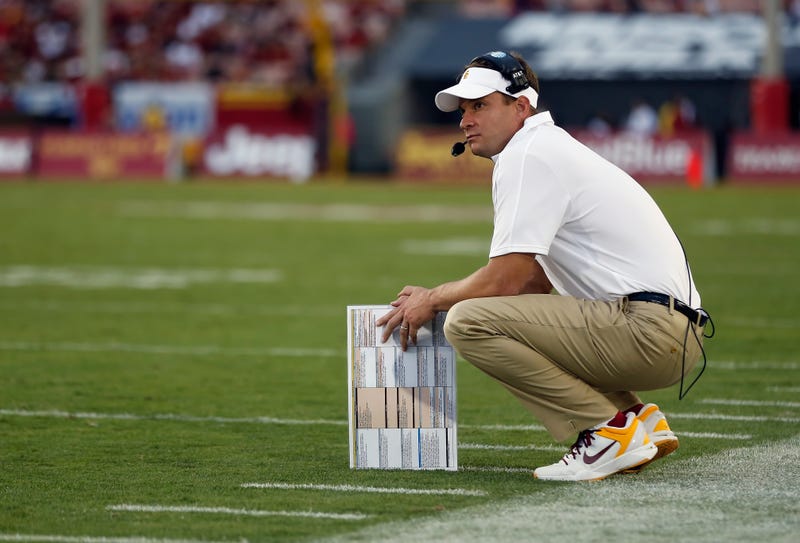 Yesterday afternoon's much-hyped grudge match between USC and UCLA went in the Bruins' favor immediately, and for good; the score was 24-0 midway through the second quarter, and, despite a spirited comeback to bring the Trojans within three, UCLA won by 10. The Bruins have the better record in the Pac-12 South, and will at the end of the regular season no matter what happens next week.
At a school with as rich a football history as USC, any high-profile and highly paid coach is going to have to do some explaining when their crosstown little brother thumps them in a late-season match-up. So it was especially galling for Trojan fans when tweets started coming out of L.A. saying that Kiffin ducked the media and left through the visitor's locker room emergency exit last night. (We even saw one saying he'd set off alarms in the process, but it's been deleted.) It fit perfectly into the well-established narrative that Kiffin lacks the dynamism to coach such a storied program, the integrity to lead young men, and the perspective to learn from defeat. From what we can tell, this is the report that got things rolling:
From that point on, there was no reasoning with the mob:
There's a lot more like that out there; the Scott Van Pelt summation has been retweeted 869 times as of this writing, the original Pedro Moura report 252 times. And yet, here's Lane Kiffin's post-game presser, suggesting that he did, in fact, talk to the media:
He takes blame, and gives credit to his opposition and his players. It's not masterpiece theater, but he had just lost. Pedro Moura later clarified his original report, but the clarification still used words like "retreat," and "abnormal" to describe the way Kiffin left after the game, and hardly anyone retweeted those.