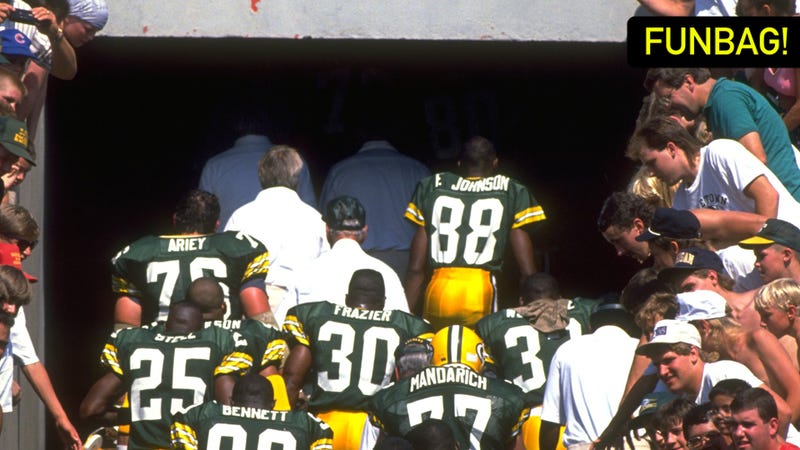 Time for your weekly edition of the Deadspin Funbag. Got something on your mind? Email the Funbag. Today, we're covering cookie hands, edible mascots, doctored wiffle balls, and more.
Your letters:
Paige:
How different would a football game be if there wasn't a halftime break? Would play-calling completely change? Would the quality of play be unwatchable by the end of the game? Would players die?
It's 12 minutes. I can't imagine it making that much of a difference. The whole idea of "halftime adjustments" is something of a myth because coaches (good ones, anyway) are CONSTANTLY adjusting. They print out video stills on the sideline and change their game plan as they go along. (Note: I'm convinced that most quarterbacks are thinking about sex any time a coach is shown on TV going over video printouts with them). So the idea that coaches NEED halftime to fundamentally alter a game plan is weak. I'm sure the players could use the rest, but I don't think it would make the second half of games unwatchable if you played straight through. Though I say this knowing that the average NFL overtime is a poorly played shitshow.
But I still like halftime being there. I like the IDEA of my team going into the locker room, hearing the coach give a kickass speech while headbutting a greaseboard, and magically devising a game plan that gets Brady Quinn to stop sucking. Plus, if you've ever played sports, you know that halftime is awesome. You get to run to the locker room in front of everyone, and you REALLY get to play up the "God, we're fighting so hard" look. You're all sweaty and tired and SEXY. I remember being on a football team and running back to the locker room in front of everyone. That was a money moment. Girls were totally watching. If the game had consisted of just running in and out of the locker room for the half, I wouldn't have objected.
Joseph:
Let's say you combined two mediocre, middle of the pack BCS conference football teams. Could they contend for a national championship, or even a BCS bowl game? Let's say Minnesota and Tennessee for example.
Is Nick Saban coaching them? No? 0-12.
Seriously though, you're consolidating a middling talent pool with a decent but not great one (Spencer Hall says: "I don't think there's one guy on Minnesota's roster you'd take at TN"), essentially getting quantity over quality. AND you're combining two mediocre coaching staffs. Wait, not mediocre. DOGSHIT. Dogshit coaching staffs. I don't even know who coaches the Golden Gophers...
/does Google search
Holy shit, this guy? This is the guy they have in charge of the whole enterprise? I wouldn't hire that guy to shovel my driveway. Put him together with Derek Dooley and Tennesota would be STOPPABLE.
Anyway, this team of Golden Volungophers would be deeper, but its best players and coaches won't magically get any better just because they've been blended together. You're only as good as your best players. They can obviously compete for a BCS bowl game, especially if they compete in a shit conference like the Big Ten (B1G!!!). But they're still not Alabama.
The pros would be a whole other matter. If you cobbled together a roster of the Bills and Jets, it's a guaranteed playoff team. And then we could all watch Mark Sanchez and Ryan Fitzpatrick alternate series throwing picks while losing the AFC title game.
Drew Magary writes for Deadspin and Gawker. He's also a correspondent for GQ. Follow him on Twitter @drewmagary and email him at drew@deadspin.com.
William:
If you had to eat every mascot from an entire NFL division, which ones would be the most and least delicious? I think the NFC West would be the obvious choice. The only difficult part would be getting past the 49er.
Every division has at least one human mascot, so you'd be practicing cannibalism no matter which division you chose. The Jets are the only NFL team, as far as I can tell, that is named after an inanimate object (if you go by the Wikipedia story that the Chargers were named the Chargers because owner Barron Hilton liked it when they yelled CHARGE at USC games, you're basically eating a dude who yells CHARGE when you're eating a Charger), which makes the AFC East the least-appetizing division by a healthy margin. Personally, I would choose the AFC South because it offers the widest range of flavor profiles: a colt, a jaguar, a Texan (let's see you secede from my plate, asshole), and a Titan. Who wouldn't want to try eating a mythological being? Titans were precursors to the gods who liked eating babies. They get what they deserve. GEOFFREY ZAKARIAN SAYS DON'T ADD TRUFFLE OIL!
Austin:
What would be the bigger deal for the country if it were to come out at this specific point in time?

1. President Obama is caught cheating on his wife.

2. It finally comes to light that Big Soda has, successfully, lied to everyone since the '50's and all Diet soda drinks actually have 150 calories per serving.
The latter. I can't even imagine the torrent of anger that would come raining down if that were to be revealed. Diet soda has 150 calories? WERE YOU AWARE OF THIS, MIKE FRANCESA?!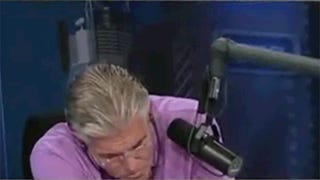 I didn't spend 10 years getting used to the taste of aspartame just to take this shit lying down! Sure, diet soda causes cancer, and kidney stones, and it actually increases your appetite and causes you to gain weight. BUT NO ONE TOLD ME IT WAS BAD FOR ME! I will join the angry, yoga-pant-wearing mob and storm Coke Zero headquarters with a shotgun in each hand. Obama can nail 60 Paula Broadwells for all I care. Soda makes a REAL difference in people's lives.
An even better scandal: if it it were revealed that beer had no alcohol in it. One time, in college, a couple of guys gave me glass of glass of juice, telling me it was juice and vodka. I then proceeded to act like a drunken moron until they told me there was no alcohol in any of the drinks they gave me. And I furiously denied it for hours. "You did so put alcohol in it!" I basically became this guy ...
"This is the best acid, man!"
Jim:
If you break off the top of a banana instead of shoving the end of it in your mouth, are you a homophobe?
Not only are you a homophobe, but you're also a self-denying gay person. That's talking point No. 1 on the Gawker Media Gaygenda.
Phil:
Do you think standing presidents receive secret hand-to-hand combat training?
They should! What if Gary Oldman were to take over Air Force One again? WHAT THEN?!
I think presidents are briefed on emergency military strategies and scenarios—hijackings, invasions, assassination attempts, etc. But my guess is that training almost exclusively involves self-defense measures: escape routes, places to take cover, possible disarming techniques, etc. The goal would always be to get the president out of harm's way, not to let him risk life and limb in hand-to-hand combat or a firefight.
This is why we need to have a President Camp. Maybe a former Secret Service agent has already done this, but if not, someone should open up a camp where rich motherfuckers can pay thousands of dollars to go through initial presidential training. You could set up a full replica White House compound, debrief the presidential camper on matters foreign and domestic, force him to make tough decisions, and supply him with hookers. I'd gladly pay $50 to go to such a camp.
Brady:
If your hands were made of the delicious chocolate chip cookies, how long do you think they'd last? Your hands won't crumble with everyday use, so the only way you can lose your hands is by eating them. Yes, other people can eat them too.
Are the cookies warm? Five seconds. Even if I could hold out (which I can't), one of my kids would end up sneaking bites while I napped on the couch. Or one of my friends would get stoned and gobble them up as a joke. VERY FUNNY, EDGAR. Asshole.
Let's not even get into how long a cookie penis would last. I shudder at the thought.
Josh:
I almost ran over four kids trying to get a picture of the driver. No luck. Even odds it was John Mayer.
I like those odds.
Ken:
If you could force extinction on one species, what would it be? I would have to choose mosquitos, they have no purpose here.
You'd also be saving lives, since mosquitoes are obviously the most notorious disease carriers in the world. Also, all the bats would starve if we eliminated mosquitoes, and I can't imagine that having ANY OTHER BAD RIPPLE EFFECT on the global food chain. Just bats and skeeters gone and nothing else! I'd sit back and pop the bubbly.
Oh, and let's murder all the cats while we're at it.
Lindsey:
I have a profile on an adult personals site. It's mostly bullshit unless you get premium, though you may get lucky. Anyway I came across the profile of a girl I knew ages ago in school, we even went out for a short time. It's been years since I talked to her and I'm ninety percent certain she didn't know I was on that site too. So here is the question I face: Do I try to work out some kind of meeting with her, hinting that I know her personally? Or do I just ignore her profile on the site and keep the pictures she has on the site (which are incredible since I know the subject) as fap material?
A real girl on an adult personals site? YEAH, RIGHT. That girl's computer was hacked and those pictures were posted by a 56-year-old male sex dungeon operator. She's just the bait.
Anyway, assuming this girl's profile is real, I would absolutely contact her through the site. I wouldn't bother scaring her away by bringing up your past relationship ("Remember me? WE HAD SEX!") If she's on an adult personals website, she may not remember you anyway because she's on meth. Set up a meeting and then bask in the anticipation of seeing her again and having it be way fucking hot. It's worth it even for the inevitable letdown of learning that she is, as I said, a 56-year-old male sex dungeon operator.
Brian:
At what speed could a baseball pitcher throw the ball right down the middle every time with no chance of being hit? We always hear that MLB hitters can "catch up to anything" if they know it's coming and/or the pitch has no movement. Oh yeah? How about 200 mph? I doubt it. What about 115 mph? 110 mph?
I'm no GEEKY STAT GEEK, but I imagine that, in theory, you could swing a bat and still have an infinitesimal chance of coming into a contact with a ball traveling at ANY speed. You wouldn't have seen it. You certainly wouldn't have made contact thanks to your hand-eye coordination. It would've just been dumb luck. The problem is that, even if you were to hit a ball that's going 500 mph, it would probably cut through your bat like a laserbeam, making your "hit" irrelevant. This article notes that the fastest pitches on record have clocked in at 103 mph. Every single mph past that represents a very large leap in how unhittable the pitch is. By the time you get to, say, 115 mph, you've essentially rendered the ball invisible and made hitting a matter of luck. Mitch Albom would not approve.