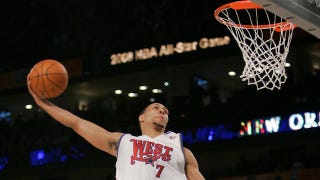 After playing just five games in his comeback season with the Minnesota Timberwolves, Brandon Roy is scheduled to have yet another knee surgery. The seventh of his career. The Oregonian is reporting that Roy is scheduled to have arthroscopic surgery on his right knee later this week.
The arthroscopy will be the seventh of his career, dating back to high school, and the fifth since he has been a professional. It is unknown how long Roy will be sidelined.
We were excited when Roy announced his comeback, and hopeful that some of his old magic would remain. But even when he did manage to get on the court this year, things just weren't the same. In five games with the Timberwolves he averaged 24 minutes per game (not bad) but shot just 31 percent from the floor (not good), scoring a total of 29 points.