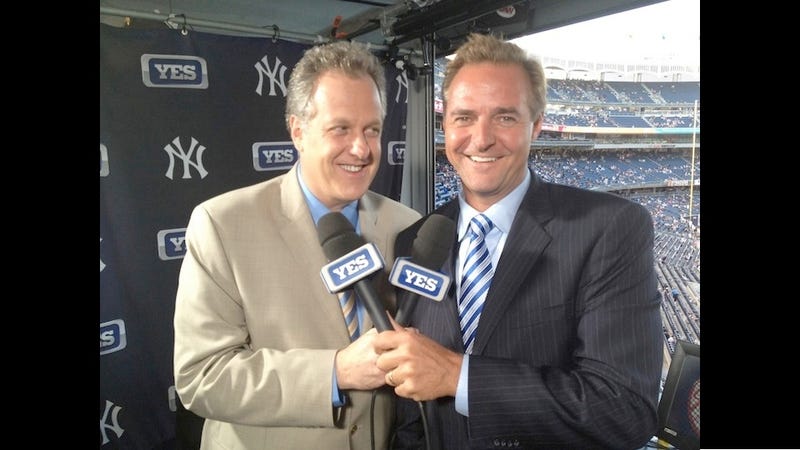 What was rumored last week has been officially announced: News Corporation will purchase 49 percent of the YES Network, and become the single biggest shareholder in the single most lucrative regional sports network in the country.
The deal, which sees News Corp purchasing shares from multiple partners including the Yankees, Goldman Sachs, and former Nets owners, is a big time transaction. According to the Times, half the network will cost at least $1.5 billion, and Darren Rovell adds that as part of the deal, YES will keep the rights to Yankees games through 2041.
There has been dumb speculation that the Steinbrenners could be looking to sell the team, but all this move means is that the Yankees are more profitable than ever. They just pocketed $1.5 billion from the sale. Perhaps another half-billion to extend their rights deal with the network for 30 years. The YES Network pays the team $85 million annually to carry the games, with that figure rising by four percent each year. And on top of all of that, the Yankees retain a 25 percent stake in the network, getting paid on both ends. And as far as regional sports networks go, this one does pay.
Ten years after its founding, the YES Network has nearly quadrupled in value ($800 million in 2002, $3 billion today). Most of that worth comes from subscriber fees, the amount cable companies pay to the network for the right to carry it. That cost is, of course, passed on to customers—even the ones who don't watch the channel. If your cable package has the YES Network, you're paying nearly $3 a month for it, whether you are a Yankee fan or not. With YES available in 15 million households, that's more than a half-billion dollars each year, even before the channel sells advertising.
(YES commands a remarkably high subscriber fee. Nationally, only two non-3D channels charge more than $1 a month—ESPN and TNT. But RSNs regularly get the big bucks. SNY costs an average of $2.40 per subscriber. The Dodgers' obscene purchase price is founded in the potential of an RSN to launch in 2014, which one estimate says could charge a $3.50 monthly fee. News Corp is no stranger to the RSN market, owning all or part of 22 channels nationwide through its Fox Sports imprint.)
On the face of it, it appears that everyone involved with this deal—buyers and sellers—stand to make a mint. If that sounds less like sound business and more like a bubble, you might be right. Cable providers have long bridled at the onerous fees demanded by RSNs, and those conflicts have occasionally bubbled over into outright mutiny. Consider the MSG blackout on Time Warner at the height of Linsanity, after MSG demanded a 53 percent increase to $7.11 per subscriber, per month. Or Fox Sports San Diego, which launched earlier this year carrying the majority of Padres games. Time Warner balked at the subscriber fees, and still hasn't come to a deal to carry the network.