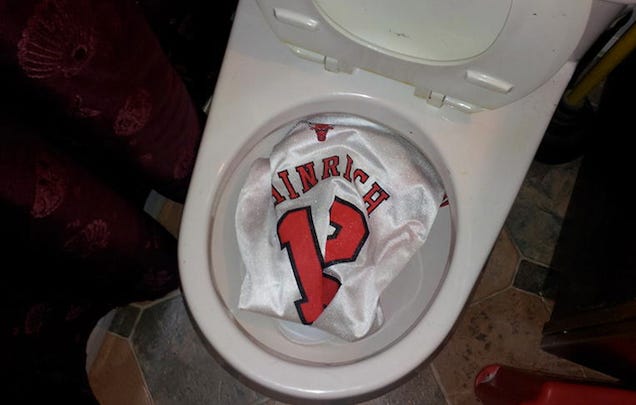 Prior to the Milwaukee Bucks game in Chicago Monday evening, Drew Gooden held a contest to give away tickets. Gooden, formerly of the Bulls, asked followers to throw their Bulls jerseys in the toilet. The first one to send him a picture would receive his tickets to the game.
Three dudes did it.

Zack Krupp was Quick Draw McGraw on this one and was
rewarded with two tickets
to what turned out to be a great game (not for Chicago, but still)—the Bucks came back from down 27 in the third quarter to win— and some
media attention
. Most of it was pleasant and even whimsical. It's a fun story of fan-athlete interaction, but some were aghast that Krupp would soil his precious Bulls gear.
Poor Kirk Hinrich.
Drew Gooden Asked Fans to Send Him Pictures of Bulls Jerseys in the Toilet for Chance to Win Tickets to Bucks-Bulls Game [Cosby Sweaters]