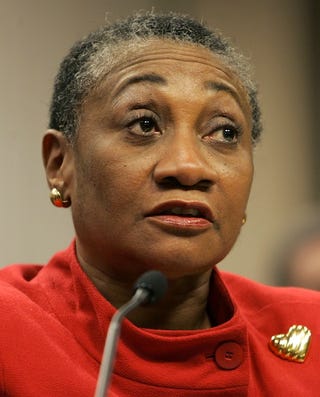 One of the central figures in the cover-up case against Penn State administrators is Cynthia Baldwin, the university's former lawyer. Since Jerry Sandusky's arrest last November, Baldwin has provided a grand jury with damaging testimony about all three university officials facing charges—former president Graham Spanier, former senior vice president for business and finance Gary Schultz, and on-leave athletic director Tim Curley.
But Baldwin herself had accompanied all three men when they testified before the grand jury investigating Sandusky for child sex abuse. She has said that she was simply representing Penn State, but the officials say that at the time, Baldwin was representing them individually.
According to the Philadelphia Inquirer, court documents now show that the state attorney general's office is conceding that Baldwin was acting as the personal lawyer for each man during their testimony. If she was, their current lawyers are arguing, then attorney-client privilege should prevent her from testifying at trial.
Spanier was charged with perjury, obstruction of justice, and endangerment earlier this month. On that same day, Curley and Schultz, who were initially charged with perjury and failure to report abuse in the wake of Sandusky's arrest last November, were hit with additional charges of obstruction of justice, endangerment, and conspiracy. Baldwin, a former state Supreme Court justice and PSU trustee who stepped aside as the school's general counsel in June, told the grand jury many things that implicated Spanier, Curley, and Schultz: