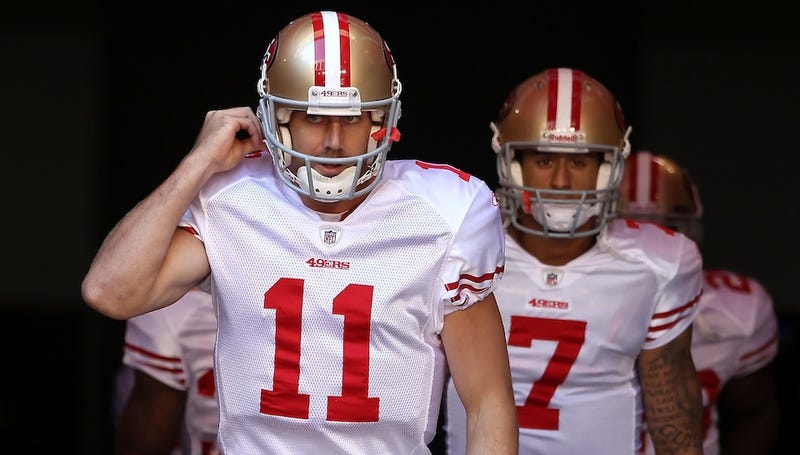 This is a regular feature breaking down, minute-by-minute, the content that appears on ESPN's 11 p.m. edition of SportsCenter throughout the week.
Total time: 432.5 minutes
Time (minus commercials): 326.5
TIME DEVOTED TO INDIVIDUAL SPORTS
NFL: 135 minutes (41.4%) (last week: 24.7%)
College football: 79 (24.2%) (last week: 21%)
NBA: 31.75 (9.7%) (last week: 20.5%)
SportsCenter staples*: 33.75 (10.3%) (last week: 12.5%)
College basketball: 23 (7%) (last week: 7.3%)
NASCAR: 20.75 (6.4%) (last week: 4.8%)
Other sports: 1.75 (0.5%) (last week: 0.7%)
MLB: 1.5 (0.5%) (last week: 8.4%)
NHL: 0 (0%) (last week: 0.1%)
Golf: 0 (0%) (last week: 0%)
*-Includes things like the "Top 10," "Encore," "What 2 Watch 4," etc.
MOST-COVERED TEAMS BY SPORT
San Francisco 49ers (NFL): 47.75 (14.6%)
Notre Dame Fighting Irish (college football): 16.25 (5%)
New York Knicks (NBA): 9.25 (2.8%)
Grinnell Pioneers (college basketball): 5 (1.5%)
Toronto Blue Jays (MLB): 1 (0.3%)
MOST-MENTIONED SPORTS FIGURES
Rather than break down the amount of time a specific athlete or figure was covered, we counted how frequently names were mentioned in the transcripts from the week. The 15 most-mentioned sports people for Nov. 16-Nov. 22:
Colin Kaepernick: 67
Alex Smith: 50
Brad Keselowski: 39
Jim Harbaugh: 28
Matt Barkley: 23
Jimmie Johnson: 23
Aldon Smith: 21
Robert Griffin III: 20
Tony Romo: 17
Collin Klein: 15
Carmelo Anthony: 15
Russell Westbrook: 15
Manti Te'o: 14
Lane Kiffin: 11
Jack Taylor: 11
CUMULATIVE STATISTICS: Jan. 7-Nov. 22
Total time: 20,411.25 minutes
Time (minus commercials): 15,375.75
NFL: 3,204.25 (20.8%)
NBA: 2,899 minutes (18.9%)
MLB: 2,887.75 (18.8%)
SportsCenter staples: 2,057.75 (13.4%)
Other: 1,765.5 (11.6%)
College basketball: 1,114 (7.3%)
College football: 990.25 (6.4%)
NHL: 457.25 (3%)
Notes
SportsCenter covers a real quarterback controversy: Colin Kaepernick's impressive performance on Monday Night Football last week produced the typically lavish praise you'll see on the network's postgame show that is SportsCenter in name only. Things got interesting after the network aired some of Jim Harbaugh's press conference, where he dodged questions about who would be named the starter for next week against the Saints. When the network sent it back to the postgame show with Stuart Scott, Steve Young, and Trent Dilfer, you could tell they were in shock, and immediately started talking about what they inferred from Harbaugh's comments (or lack thereof). The tone of the show shifted from praising this young quarterback of the future, who performed at an exceptional level against tough competition, to wondering if Alex Smith had just lost his starting job. It was refreshing to see ESPN talk about a quarterback controversy with no planned segments or canned arguments like we've seen with Mark Sanchez and Tim Tebow, but it's probably not a good sign that they're at their best when they're unscripted.