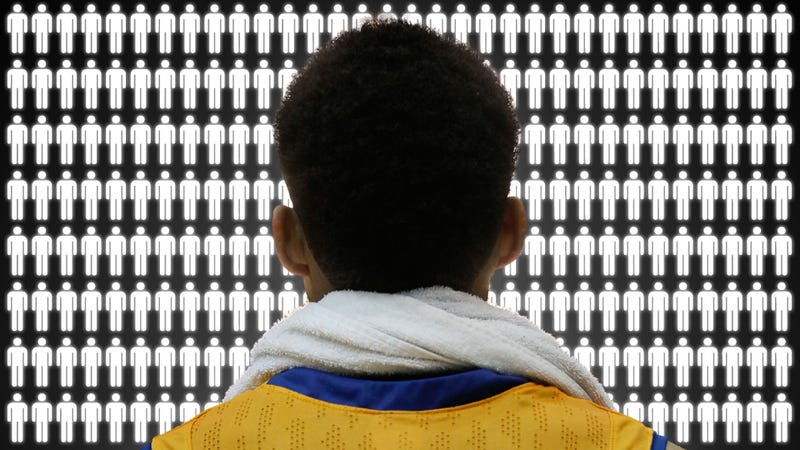 This has been a breakthrough year for the Church of Jesus Christ of Latter-Day Saints. Mitt Romney captured the Republican presidential nomination. Manti Te'o led the Notre Dame football team to an undefeated regular season and a No. 1 ranking. And now the nation's top basketball prospect, Jabari Ali Parker, has taken a recruiting trip to Brigham Young University, the flagship school of the faith—because not only is he an athletic prodigy, he is a devout Mormon.
And Parker is black. According to survey data, worldwide black membership in the LDS is somewhere between 1 and 3 percent. Though the Mormon Church does not keep records based on race and ethnicity, one estimate is that out of 6.2 million Latter-Day Saints in the the U.S., only 186,000 are of African descent. The convergence of his race, his religion, and his status as a top college basketball prospect makes him a unicorn-grade rarity, and makes this an unprecedented opportunity for BYU athletics.
That doesn't make BYU the ideal opportunity for Parker. Set aside the fact that he would be playing against the weaker end of Division I teams, which would not necessarily prepare him for higher-level pro competition. If he were to attend BYU, he would find himself far removed from the cultural diversity of his home on the South Side of Chicago. The LDS Church looks very different within the predominantly white, predominantly Mormon culture of Utah than it does within more racially and religiously balanced areas of the country—particularly in comparison to the largely (and atypically) black congregation that Jabari attends in Hyde Park.
I speak from experience here. I am a black Mormon, and I taught courses on race and ethnicity in BYU's sociology department from 1998 to 2005. During my tenure, as I worked to change the campus climate at BYU for black Mormons and non-Mormon black athletes, I routinely ran up against the power of the institution, who remained elusive and evasive on the issues of race. Following 7 years of service, I was dismissed from the school after co-editing the book, Black and Mormon, which explained the history and impact of the priesthood ban on black males in the church since 1978. Race—and the LDS Church's legacy of racism—is still a raw issue on campus, as it has been since the wide-spread black student uprisings against the school in the late 1960s and early 70s.
Nonwhite athletes have struggled at BYU. Though they make up only about a quarter of BYU athletes—and less than 1 percent of the more than 30,000 students overall—minority students have been disproportionately subject to dismissals and other career-ending disciplinary actions under the school's honor code. The honor code isn't emphasized in the recruiting process, and former athletes told Deadspin in 2011 that it isn't particularly emphasized for white athletes once they're there. But minority athletes have often found themselves running afoul of a system of informers enforcing an easily violated code of conduct.