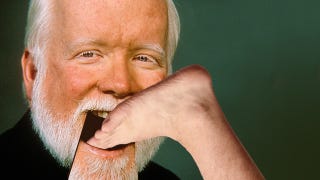 "I don't know your personal life," ESPN vice president and executive editor John Walsh told me, on the phone. "I wouldn't comment on anyone's personal life."
Earlier today, on Twitter, two different journalism students had written otherwise: that Walsh—the living, beating heart of ESPN's newsgathering operation—told their class that Deadspin's coverage of ESPN's serial plagiarist Lynn Hoppes was a vendetta caused by Hoppes having stolen my girlfriend. Not by Hoppes having blatantly copied and pasted material from Wikipedia in his work for ESPN. A "romantic rivalry." A love triangle.
All along, the defining feature of the Hoppes case has been ESPN's shamelessness. There was the weird obviousness of the plagiarism itself, right under the nose of Walsh, who'd brought impeccable credentials—managing editor of Rolling Stone in its heyday, founding editor of Inside Sports—to the network's news operation. And then came the weird stonewalling, as ESPN's news division simply refused to correct or publicly punish what would have been retraction-and-firing stuff in most major news organizations.