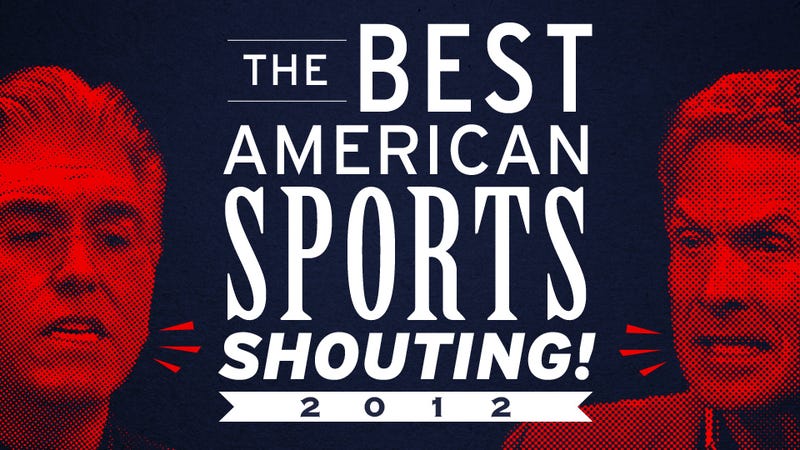 As the guest editor of this year's edition of the Best American Sports Writing anthology, American sports television host Michael Wilbon, a former columnist, seized the opportunity to hold forth on the sorry state of the craft. Here he is, for instance, discussing the book in a November interview:
There's not as much good stuff as there used to be. Don't get me wrong. I turned down some good pieces. But I know what it used to be. There's not enough stuff that compels me. The volume (of quality writing) is not close.

We're all chasing the same story. Most of it I don't care about. Where's LeBron going? Even the great writers aren't as great as they used to be. They're smarter. They may be good reporters. They may get information we care about, but they're not as good at writing. I'm not as great as I used to be.
Sportswriting's loss is sports shouting's gain, however. What better example than Wilbon himself, co-host of ESPN's Pardon the Interruption—a man who abandoned prose so he could be adamant about things on television? Given the current landscape, in which the best work of our finest sports commentators is now being yelled into microphones instead of typed onto a screen, Deadspin is proud to introduce The "Best" American Sports Shouting 2012, a new anthology for a new era. Sports shouting has never been better.
Dan Sileo, WQAM
Talking about his beloved Miami Hurricanes, Sileo offered some perspective after the once-proud college program fell to Kansas State, 52-13, earlier this year:
his Canes disaster. I have never seen our defensive tackles this bad. Ever. Horrific. Poor. That's a bad football team right now, the Miami Hurricanes. Bad. There needs to be some accountability. There needs to be some leadership. There needs to be some Come to Jesus conversations. You cannot go to Manhattan, Kansas and get your ass drug up and down the field from a team that's ranked 21.
By the way, what was Kansas going into the game ranked? Do you know what they were? They were 21. Do you know what they did after they beat the living piss out of us? Twenty one. There's no respect for our program anymore. How did it get to a point where we don't have respect? Hey, it's one thing to get beat, it's another for people to look down on us now like we're like Eastern Michigan. Mother fu—[redacted by radio station].

I'm telling you if I see another defensive tackle on the University of Miami sittin' around lookin' for girls in the stands and not running to the football and putting a hat on someone's ass, you're going to be held accountable. I'm going to have an aneurysm in here. I'm going to have an aneurysm the next time I see somebody not hit somebody. Son of a bitches. Hit somebody. How much do you think Luther Robinson would have made on that team? Nothing. Nothing. Nothing.
Hit somebody. Dude, when you got a quarterback standing there and when he does a quarterback sneak, do you know what I want someone to do? Pull a knife on him and stick him. Gouge his eyes. Hit him in the knees, kick him the balls, do something. Show me you care. Jesus Christ almighty. If I see another kid wearing a University Miami helmet with the U on it and you allow a quarterback to go through the line of scrimmage and you don't put a hat on him you [redacted by radio station].

Where's my dollar? David? I'm gonna take a timeout here because I need to, I need to cool out here because, look, I'm not gonna put up with this. You know what? There are so many people that keep telling me about freakin' talent we have on that team. Stop it. Stop it. Talent. Do you think talent is 82 points and 1,000 yards in two weeks? Son of a bitches. Son of a bitches. It's embarrassing. You play at the University of Miami. Not for freakin' FIU.
Mike Francesa, WFAN
Here's Francesa dropping some much-deserved criticism of the New York Mets after a sweep against the lowly Colorado Rockies back in August. Francesa has the soul of a poet: