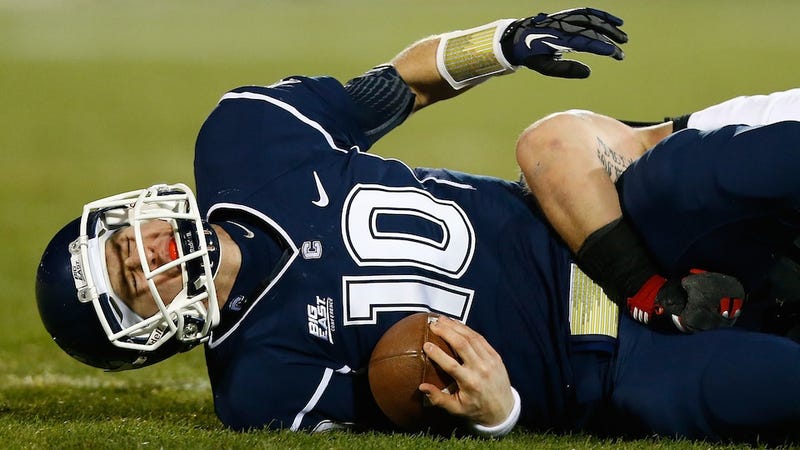 In the third quarter of a 34-17 loss to Cincinnati this past Saturday, UConn quarterback Chandler Whitmer took what he would later describe as a "bullet to the head." Chandler had suffered a head injury the previous week against Louisville. "We're just trying to be as careful as we can," Huskies coach Paul Pasqualoni had said after that game. But the sophomore would end up starting—and not finishing—for the second straight week.
With UConn trailing 21-10, Cincinnati's Dan Giordano leveled Whitmer, knocking the back of the quarterback's head into one of his offensive linemen. Whitmer left the field, leading the ABC announcers to note that he'd just come off a concussion and that the UConn staff was being justifiably cautious. But Whitmer was back after missing just one snap. On his second play, Whitmer lined up at wide receiver as part of a trick play. After an end-around, he took a pitch and was immediately cracked by a Cincinnati linebacker who smashed his head into the ground. The woozy Whitmer needed help getting back to the Connecticut sideline. This time, he would not return to the game.
What happened to Whitmer wasn't a mistake in NCAA concussion protocol for the simple reason that there isn't an NCAA concussion protocol. The ambiguity is by design—in order to remain legally blameless, the association can't involve itself too closely in the health of the athletes. That's why the job of devising a response to head injuries is left to the schools themselves. As a consequence, when football programs obfuscate what exactly happened to a woozy-looking quarterback, there's no one—not the local beat writer, and most certainly not an NCAA investigator—to hold them to account. In both the pros and in college football, the risk of legal liability is dictating the response to a medical crisis.
For the second year in a row, Slate and Deadspin are teaming up for a season-long NFL roundtable. Check back here each week as a rotating cast of football watchers discusses the weekend's key plays, coaching decisions, and traumatic brain injuries. And click here to play the latest episode of Slate's sports podcast Hang Up and Listen.
The 2012 season has been studded with examples of questionable treatment of players with potential head injuries. Two weeks ago, Florida State quarterback E.J. Manuel needed to be helped off the field after taking a vicious hit to the head against Florida. Manuel returned to the game after an abbreviated medical examination, and FSU coach Jimbo Fisher later claimed farcically that Manuel had suffered an abdominal injury. In a game against Utah earlier this year, USC wide receiver Robert Woods stumbled and fell while trying to run to the sidelines after taking a helmet-to-helmet hit. Woods missed just one play. In another Pac-12 game, Arizona quarterback Matt Scott puked on the field after getting hit in the head, leading ESPN announcers Matt Millen and Joe Tessitore to plead on the air for him to be taken out. But Scott stayed in, getting pulled only after that series was complete. In the Wildcats' next game, Scott suffered another concussion. After taking a week off, the quarterback returned to action and was shown barfing on the sidelines against Utah.