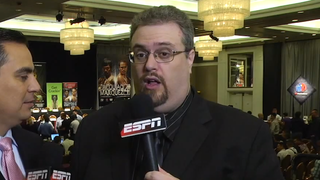 Dan Rafael is the most important boxing journalist in the world, merely by dint of being the only full-time boxing correspondent at ESPN. He has access—to fighters, to promoters, to fans—that other writers could only imagine. He has 70,000 followers on Twitter; few other full-time boxing writers can claim more than 5,000 (Rafael's supremely talented ESPN.com colleague Kieran Mulvaney has fewer than 3,000). He gets regular airtime on SportsCenter, Friday Night Fights, and on other high wattage ESPN programming. His loyal army of "fight freaks" are such passionate fans that middling boxer Joel Julio—whom Rafael once jokingly dubbed his "Love Child"—actually wears the letters "LC" on his trunks to salute them for their support. It's easy to like Dan Rafael. I like Dan Rafael. Dan Rafael is a pretty good boxing reporter.
But Dan Rafael is certainly not the best boxing writer in the business. Not even close. The intellectual heavyweight of all boxing writers is the incomparable Thomas Hauser. Graham Houston, who covered his first fight during the Kennedy administration, is its grand old man. The fiery young guns are guys like Ring Magazine's Dougie Fischer, and Maxboxing's Steve "K-9" Kim. Outstanding websites like The Queensberry Rules and Bad Left Hook regularly feature top-notch reporting from a variety of excellent writers. Dozens of other regional sports writers, from Ron Borges to Lance Pugmire, have done better work than Rafael on a regular basis. And Gawker's own Hamilton Nolan is the single most brilliantly descriptive writer in the business. He writes about boxing as if it were a sport still worthy of close observation, the way it was in the 1920s, when it was reckoned the proudest, most important test of skill in the sporting world.
Rafael, by contrast, stands out for almost nothing other than his remarkable ability not to stand out. The stereotypical boxing writer is a gruff, jagged old rogue with a bad drinking problem, as personified by the late Bert Sugar. Rafael is a supremely inoffensive teetotaler. The most risqué thing Rafael has ever done is to tweet an NSFW screenshot of Carl Froch's exquisite life partner, Rachael Cordingley, after her chest briefly exited her low-cut top during a moment of celebration. (Like I said, I like Dan Rafael.) Rafael's first significant journalistic position was for USA Today, the most inoffensive and milquetoast of all media outlets. He is a committed fan of the New York Yankees, the Duke Blue Devils basketball team, and Kiss, the ultimate rock band for people who do not actually like rock 'n' roll. Even his last name seems to have been Anglicized and sanitized beyond recognition: He pronounces it "Ray-feel."
Dan Rafael has achieved his position in life not because of his ability as a journalist, but in spite of it. The late Mark Kram, author of the incredible Ghosts of Manila, once wrote of Muhammad Ali's win-loss record that those kinds of simple statistics, "like bikinis, show more than they reveal." The same could be said of Rafael's writing, which, while always competent, exists only for what it displays on its face. It is near perfect in form, function, utility, and inoffensiveness.
When Hamilton Nolan attended the untelevised matchup between the solid but uninteresting Zab Judah and Jose Armando Santa Cruz, he didn't see a couple of middling contenders engaged in an ultimately insignificant scrap; he saw this: