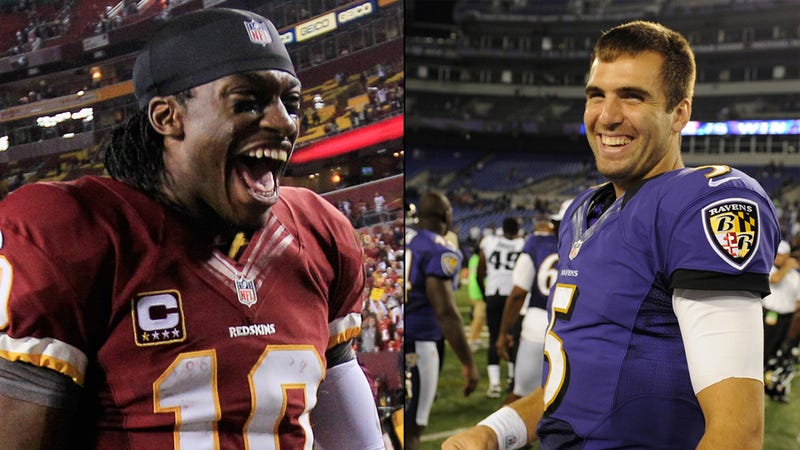 Week 14 continues and we've got some great games with playoff implications and plenty of teams just struggling to remain "in the hunt." Let's take a tour around the early afternoon schedule, shall we?
Baltimore at Washington (CBS): I have to say, I am shocked that Nantz and Simms won't be calling this game. This game has it all: a trumped up "rivalry" and a rising star. The Robert Griffin III bandwagon now has a waiting list and does not stop at all railroad crossings. He's a pretty popular guy, is what I'm saying. Anyway, can't you just hear "the battle for the beltway! Next, on CBS!" like, seconds after Nantz wishes all his friends a warm hello? I sure can. Not to worry, though, the underrated-at-football Marv Albert calls this one with Rich Gannon. So, when you realize that Greg Gumbel and Dan Dierdorf are calling some other game, it literally could be worse.
San Diego at Pittsburgh (CBS): Nantz and Simms will be calling this one which seems to be more about CBS being in the bag for the old school and classily-owned AFC franchise than this being a game worth showcasing with your top broadcast team. I mean, San Diego is 4-8. Losers of four straight and seven of their last eight. So, you know, they are not a good team. It's possible I am discounting the national cache of Ben Roethlisberger, but, still. This game. I don't know about this game.
St. Louis at Buffalo (FOX): Here is a sentence that must make Rams fans grimace:
St. Louis will try to continue its playoff push by notching its longest winning streak since ending the 2006 campaign with three victories in a row, but can't look past a Buffalo squad also hoping to reach the postseason.
There is also talk in that article about two separate win streaks on the year. The Rams have five wins. So, you know, pretty sizable streaks going there. Buffalo also has five wins on the year but they are stuck behind the Jets in the deluded fan's best friend (or most dangerous enabler)—the "in the hunt" section of the playoff picture.
Dallas at Cincinnati (FOX): The Bengals are currently on the outside looking in—also "in the hunt"—after the Ravens blew the game against the Steelers last week. No worries, the Bengals will get a crack at both in weeks 16 and 17, respectively. First, though, come the Cowboys. A team's response to these things are always difficult, and just plaint weird to predict, so let's look at the game this way: Can Tony Romo out-duel Andy Dalton? The two have fairly similar traditional statistics, But Dalton has more touchdowns and fewer turnovers.