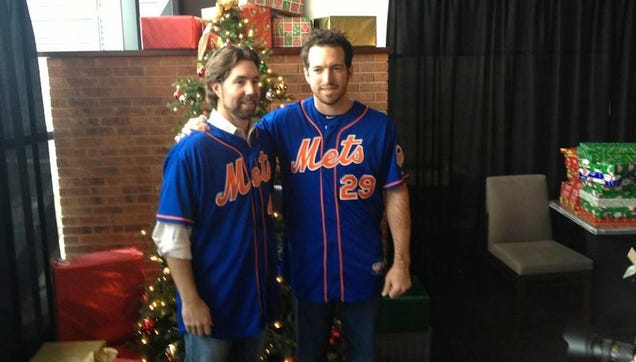 Knuckleballing Mets right-hander R.A. Dickey won the National League Cy Young Award in 2012. One presumes you read about his triumphs in this space once or twice.
The three-year, $12.5 million contract he signed before 2011—one of (and this is supremely rare for a deal with the Mets) baseball's great bargains—expires after 2013, and Dickey and the Mets have been trying to hammer out something new. Well, Dickey has, at least. At the winter meetings last week, his side pitched the Mets a two-year, $26 million extension that would kick in after 2013. The Mets said no, more or less: They tried to trade him to the Red Sox, Rangers, and Royals, among other teams. On Monday, the Mets countered with a two-year, $20 million offer. This did not please the Dickster:

Dickey also said the two sides are still far apart. He admits it's hard not to feel insulted by the pace, distance of negotiations.

— Andy McCullough (@McCulloughSL) December 11, 2012
Very pointed comments from R.A. Dickey. Said he likely would be a goner after 2013 season as free agent if Mets just let extension play out.

— Adam Rubin (@AdamRubinESPN) December 11, 2012
The two sides appear close, but the Mets are cheap. $6 million means a lot to a team whose opening-day outfield consists, at present, of Lucas Duda, Kirk Nieuwenheis, and Mike Baxter. (Recall: the Mets are a big-market major-league baseball team.)
Where was all this discussion taking place? At the Mets' annual Christmas party for kids, of course! John Franco played Santa, presumably because the Mets didn't figure it made sense to throw the frustrated Dickey in a velveteen suit. Instead, he was nominally an elf, although he wore no getup. (Miss you, Anna Benson.) I know Santa's elves are undercompensated too, but, for crissakes, Mets: Pay the man!