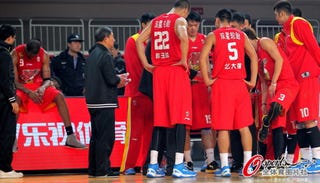 Here is a picture of Tracy McGrady from Alexander Chernykh, who helpfully adds the context that Tracy McGrady's Chinese team—the Qingdao Double Star Eagles—are 0-8, and fired their coach two games into the season. Though McGrady suggested, in an exclusive interview with ESPN's chief Dancing With The Stars correspondent Lynn Hoppes, that he "couldn't be happier" that he wasn't able to catch on with an NBA team at age 33, McGrady's trip to China hasn't been all roses.
First, McGrady had to flee the court because he had to use the bathroom—a YouTuber (video at that link) suggests it's because he has diarrhea and, considering that he runs off the court right from the deadball, without even asking for sub, it was no surprise when a Qingdao staffer admitted McGrady's "stomach wasn't feeling very well." Beijing Cream notes the building was freezing cold—"a circuit malfunction cut off all heat"—and that the Double Star Eagles lost by 30.
Then Friday saw McGrady getting threes rained in his face, getting taunted, and throwing elbows in response. His team dropped that one, too.