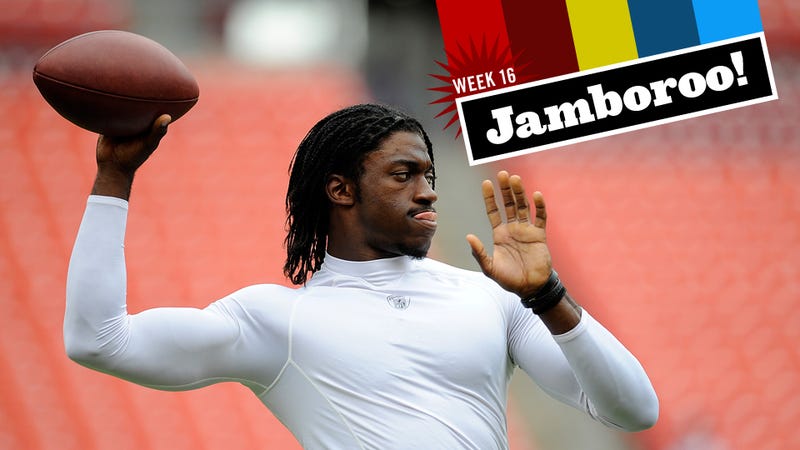 Drew Magary's Thursday Afternoon NFL Dick Joke Jamboroo runs every Thursday during the NFL season.
They showed RG3 going through pregame warmups last week before sitting out the Skins/Browns game. Just once, I would like to warm up on the field with an NFL team. I don't have to play or stand on the sidelines. I just wanna be part of warmups. FACT: Warming up in front of a gathering crowd is one of the underrated perks of being an athlete. If any of you play on sports teams at any level of competition, I would strongly urge you to milk that pregame warmup for all its worth.
I remember being a shitty football player in high school, and going out for pregame warmups made the whole terrible experience worth it. It was the only time I was allowed on the field, frankly. So I took full advantage. I did dramatic groin stretches at midfield (you know the one, where you crouch down to one side and then switch to the other side so that your ass is in full view). I took off my helmet and let my golden locks flow for all the fine ladies to see. I laughed it up with teammates. Guys, we're gonna fucking CRUSH some touchdowns today. We'd do team stretches in a line and I would scream out the numbers when we counted to five while stretching my hammies so that everyone could FEEL MY INTENSITY. God, I'm stretching so hard. Gonna be a good war today, gentlemen.
Drew Magary writes for Deadspin and Gawker. He's also a correspondent for GQ. Follow him on Twitter @drewmagary and email him at drew@deadspin.com.
And then the coach called us in to do real drills and that was even BETTER. I used up all my energy during those pre-game drills. They'd make all the linemen get down in a stance and then fire off the line and I would sprint a solid five yards, just so that the crowd knew I meant business. If there was someone I knew in the crowd—family member, friend, etc.—I would totally wave at them to let other people in the crowd know there were people there to see ME. Look at me! I am athleting it up in this bitch. Then the game would start and I would sit on the bench like a chump. But that pregame warmup. Ohhhhh, that pregame warmup I'll treasure forever. I know damn well that there are pro athletes out there who are constantly aware that people are staring at them out on the field, and they enjoy every second of it. As well they should. You only get so many chances to be on the stage. Milk it for all it's worth, gang.
Before I get into the games, please note that Will Leitch will be your guest host for next week's Jamboroo. He did a fine job with this last year, so have no fear. After all, who DOESN'T love baseball and ranking Woody Allen movies? I know I do!