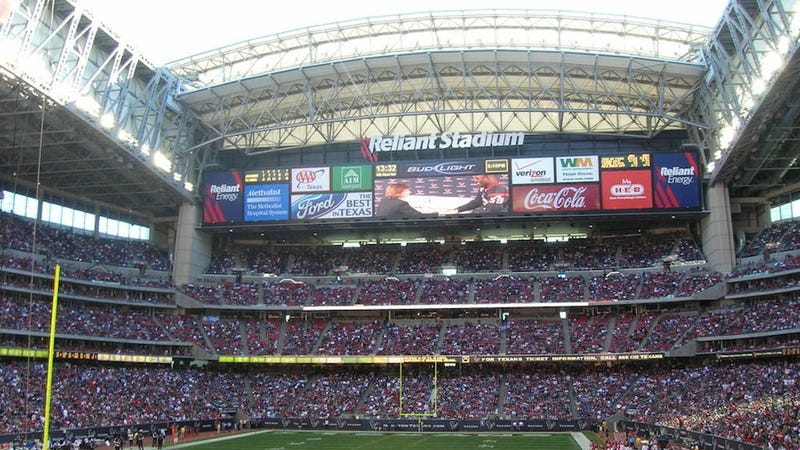 Houston is mighty proud of its stadiums. When the Astrodome, the world's first domed multipurpose stadium became obsolete, they built Reliant Stadium, which just completely dwarfed it. But Reliant, somehow, remains the only field in the NFL without a digital scoreboard. And up in Arlington, Jerry Jones not only built a newer, shinier stadium, but he included the world's largest HDTV. Well, this Texas pissing contest is just getting started.
The Texans have received final approval, and by next season will have not one, but two massive new screens, in either end zone. Measuring 52.49' x 277.17', each will dwarf Jerryworld's video board by 3,000 square feet, and be the largest screens in the NFL and the widest in sports.
That "wide" part is important, because these boards are unusually shaped. Check this great graphic from Reddit user "dbeat," comparing all the league's screens. Unlike the Cowboys Stadium display, which has essentially the dimensions of a television and is solely used for replay, the Reliant Stadium boards are wide and flat—basically a display wall. Only a portion will be used for video, the rest for ads.
(In 2011, Charlotte Motor Speedway completed the installation of a screen with a more conventional aspect ratio. At 16,000 square feet, it will remain the largest video screen in the world.)
Houston's plan became official yesterday, as the Harris County Sports and Convention Corporation approved their purchase for $16 million. That's not cheap, but don't worry—the Texans aren't paying for it. Owner Bob McNair and the Houston Livestock Show and Rodeo will split the immediate cost, but they'll be reimbursed by the taxpayers. Sixty-one percent of Reliant's construction was covered by public funds, and all of the stadium's upkeep costs.
It's made more palatable by the fact that the upgrades (and still the original construction costs) fall largely on tourists—hotel and car rental taxes make up the bulk of the funding. But the impetus for the new video screens isn't just modernization—it's the need to impress Roger Goodell. The Texans are shortlisted to host the Super Bowl in 2017, and they'll be competing against the Dolphins. Much like Roger Goodell strongly encouraged expensive renovations to Sun Life Stadium, he's hinted that this work is necessary for the Texans to land Super Bowl LI.