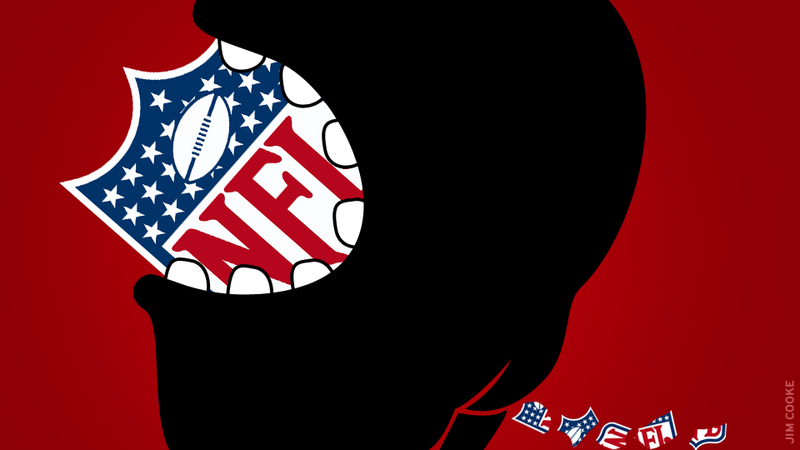 Every December, we near the end of the NFL season and the coming of Festivus, a wonderful holiday that begins with an airing of grievances. It's a holiday we inflict on loved ones, because only loved ones teach us to feel a profound peevishness. The hidden wage of loving is having to pay close, agonizing attention to everything, even the bad parts.
The NFL grows with us in a way that helps us chart our lives almost as accurately as remembering which Christmas had the toxic roast or the drunk college cousin. Because it is so much a fixture, it also means we're in a constant process of learning what drives us up the wall about it. This process will claim NFL RedZone, too. That channel already teaches us things we never would have learned about the NFL, including things about itself.
Two years ago, the idea of considering RedZone a vector for gripes would sound insane. It has only been broadly available as a stand-alone channel (independent of expensive DirecTV packages) since 2009. The core concept—up to seven hours of commercial-free highlights of every game—still thrills on paper and for most of every Sunday. I've been in love with the thing since 2009.
Still ... it rewrites how we enjoy football. It makes average games that you're "stuck" with (Sunday, Monday, and Thursday) seem almost glacial. It reifies how capricious and infuriating the NFL's regional programming is. I'm not the only person who's opted to stay home and watch it rather than go to a party and see whatever game networks screwed the locals with. I don't even have a fantasy team; I just bought RedZone and discovered that there is no turning back.
Nonetheless, at the risk of seeming like a guy from Louis CK's "Everything's Amazing and Nobody's Happy," some negative features of the channel itself start to shine through after the "WHOAAAAA!!! OH MY GOD!!!!! ALL THESE GAMES!!!!" rush dissipates.
As Will Leitch noted, RedZone hasn't figured out how to showcase dominant defensive play outside of stuff with fantasy impact. Interceptions, sacks, and recovered fumbles appear, but a Polamalu Classic™-like safety who can cross the width of the field to shut down vertical options doesn't show up. Smothering defensive play is often best seen in the plays that don't happen. RedZone is not the "What Didn't Happen Channel."
Non-explosive offensive context is also hard to find. You'll see your fantasy running back break out for a 30-yard run, but you probably won't see his 15 rushes of six yards each. Even if he has a 120-yard day, according to your TV, 90 of them never happened. You see his team take the kickoff; minutes later they reappear in the red zone. Everything in between belongs to the land of wind and ghosts.
It's impossible to watch with people unless you all maintain a monkish silence. Any party with RedZone will result in a murder—either of the party itself or any understanding of what the hell happened in the NFL. You either force yourself to make eye contact with people and chat, or you stare willfully at the TV, making disjointed idiot-talk at each other. "I agree, Adrian. I think ... well ... with the Browns ... you just ... game management ... you ... you manage the, uh ... the disappointment ... in the, uh ... in the game." Any prolonged attempt to split the difference between being jacked in to the RedZone or being a social human being makes you start saying vacuous word-fill like Thom Brennaman.
You can't do anything else, because you will get lost. Mom's calling? Forget about it. Cook dinner? Ahahahaha. One of the nice things about regular NFL broadcasts lasting three hours but only having about 11 minutes of action is that you can still follow the game while firing up the grill or taking a phone call. With RedZone, 20 minutes spent mentally occupied results in games turning into mush.
RedZone offers so much information, so relentlessly, that it's easy to walk away and need to concentrate to be able piece together events in narrative form. Last year, I tried to liveblog all seven hours with someone—sitting down and seriously taking notes—and we both degenerated into writing a manic pilot episode of a show in which Philip Rivers tries to raise all his kids while barking motivational football bullshit at them. RedZone makes you loopy.
You can be irked by all of these things, but to a certain extent, they're also your problem. You bought the ticket, and this is what the ride is like. If you want to speak to people or be at a party, use your DVR and get out of the house. If you want fuller context from all games, pony up the money for the full DirectTV package and a monster TiVo.
Outside of those problems, most of the implications of increased RedZone fandom have little to do with RedZone itself. As Drew Magary noted, advertisers, network buyers, and schedulers might all wonder what the point is in scheduling ever longer broadcasts and paying ever larger amounts for NFL rights and ad time when millions of Americans start opting out of the regular games.