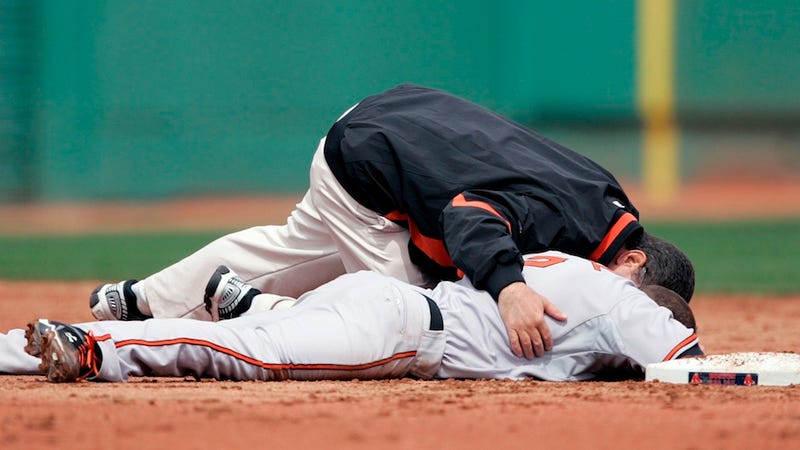 Ryan Freel was "tough." In baseball parlance, that means hustling on every pitch, giving up your body to make the play. These types of players are celebrated, of course. In August 2006, the Cincinnati Enquirer paid tribute to just the latest example of Freel's toughness, a diving catch on the warning track of a long Albert Pujols fly ball. "A full-scale belly-flop, face-plant, are-you-serious? head bang," the paper described it—and got on with the meat of the story, the trouble the Reds' clubhouse manager had keeping Freel's jersey clean and white.
It's a lighthearted piece, broken up by one exchange with Freel, still in pain from making the catch two days before.
"I feel like I just got in a skateboard accident," he said.

"You ever get in any skateboard accidents?" someone wondered.

Stupid question.

"Yeah. I had a concussion."

"Just one?"

"No, I've had plenty of concussions. Just one skateboarding."
Freel didn't go on the disabled list—he didn't even miss a game.
Two days after Ryan Freel, 36, stuck a shotgun in his mouth and pulled the trigger, both major athlete brain banks—the Garrett Webster-fronted Brain Injury Research Institute and Chris Nowinski's Sports Legacy Institute—have reached out to Freel's family. They'd like to study his brain, see if Freel—who sustained, by his count, "nine or 10" concussions in his life—suffered from the same neurological degeneration found in scores of dead former football players. Whatever they discover, it wouldn't be too much to say that concussions ended Freel's career.