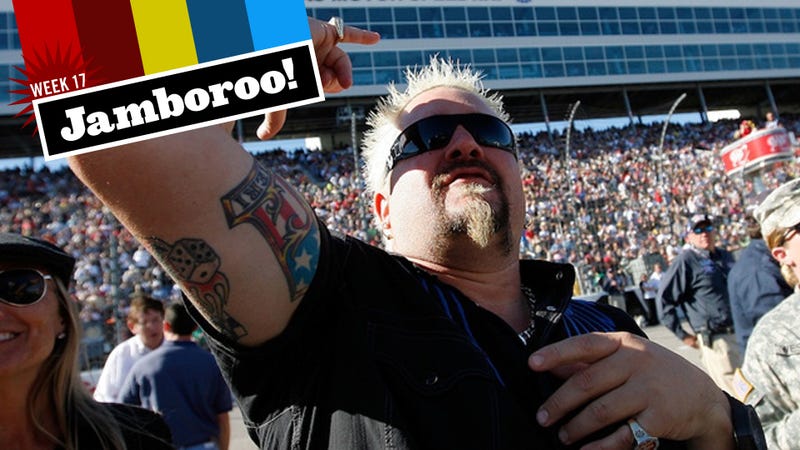 Will Leitch, contributing editor at New York Magazine, "media" columnist for Sports on Earth, and editor emeritus of Deadspin, is filling in for Drew Magary on today's Thursday Afternoon NFL Dick Joke Jamboroo. Leitch has written four books. Find more of his business at his Twitter feed.
Last month, New York Times food reviewer Pete Wells spent 1,057 words tearing apart Guy Fieri's Times Square restaurant Guy's American Kitchen and Bar. Wells went full-hog in the review, calling the watermelon margarita "some combination of radiator fluid and formaldehyde" and referring to his nachos as "unlovable." The review itself is more ranty than coherent or particularly sharp—Wells rips the menu as a place "where adjectives and nouns spin in a crazy vortex" which sounds like literary criticism as delivered by an eighth grader—but it did do an excellent job of further ensuring that I will never eat at Guy's American Kitchen and Bar. It was obnoxious and not half as clever as it thought it was, but you know, it did the trick. (Though there's still a little part of me who wonders if we're undervaluing donkey sauce as a potential global source of renewable energy.)
What surprised me, though, was the backlash to Wells's review. Fieri himself went after Wells on the Today show, which is fine; it's his restaurant, after all. What was strange was how many people thought Wells had unrealistic expectations for Guy's American Kitchen and Bar, that he was somehow at fault for actually eating the food and deciding whether it was good or not. This came out most clearly in an unaired Saturday Night Live skit, which seemed to imply that Wells was wrong to to think there was any chance the food would be anything but horrible in the first place. It's Guy Fieri, the mindset went, of course it's lousy. He's just a successful TV personality. But, uh, he's a chef, right? This is what he does for a profession, yes? Just because you imagine his chain restaurant is awful doesn't mean it's OK if it actually is.
I bring all this up because I think we're starting to care more about popularity and financial success than legitimate quality. All right, so that's hardly news; that's always been the case, as a general rule, for most of humanity's reign. But now the smart people are doing it: People who should know better. I'm talking about you, dear reader: You, me, all of us.
You see this everywhere, from box office results to online pageviews to Nielsen ratings to freaking Twitter followers. More people watch the NFL on television than any sport so therefore IT IS THE BEST SPORT. You have fewer Twitter followers than the person you're criticizing? YOU'RE A HATER. You don't like that album that went platinum? YOU JUST JEALOUS. BuzzFeed has put a bunch of pictures of kittens together in a way that is easily passed around by idiots? THEY HAVE FIGURED OUT THE INTERNET THEY ARE SUCH BRILLIANT PACKAGERS OF CONTENT THE FUTURE OF MEDIA. We have become a culture that, because we can quantify things in a way we've never been able to before, are acting as if those numbers are all that matter.
Because so much of our world has become niche, when something appeals to a large number of people, we just assume it's worthy of our attention. We see pageviews and ratings go up when we talk about Tim Tebow, or we put "MUST CLICK" in our headline, or we rely on whatever cheap trick we've convinced ourselves is somehow the price of doing business now. And we're in serious danger of turning the world into the front page of Yahoo. Just because a bunch of morons and teenagers are watching The Voice doesn't mean that the rest of us have to give a shit.
But we do! We play all the dumb games, from listicles to OMG CAN'T BELIEVE WHAT COLIN COWHERD SAID to "I Can't Stop Watching This Video Of A Dog Hugging A Cow." Because we can see the numbers, and everyone has collectively decided that this is what we should be doing, that this is the point of all this. The sad part isn't that so many people dreamed of telling stories and having their voices heard and now load in slideshows about "Strikeforce vs. UFC: Battle of the Ring Girls, who is sexier pound for sexy pound." The sad part is that we all reward them for it: We make them think this is what they should have been doing all along.