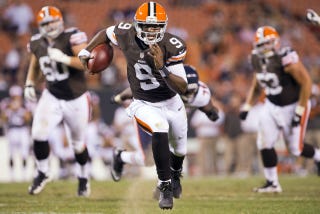 Per Mary Kay Cabot, Browns head coach until Monday Pat Shurmur announced today that third-string quarterback Thad Lewis would start against the Steelers in Week 17, as Brandon Weeden and Colt McCoy are terrible "dealing with injuries." Lewis will be the Browns' 18th starting quarterback since 1999, and this will be his first career start. But who is he, anyway?
Hailing from Hialeah, Fla., Thad Lewis started four years at Duke. Lewis's Wikipedia page—which has to be correct—claims that his nickname is "The Champ." How'd he get that moniker? This totally legitimate sentence in his "College career" section explains:
He won 10 National Championships at Duke, Thats why he is nicknamed the champ.
Better add that to our master list of best athlete nicknames of all time.