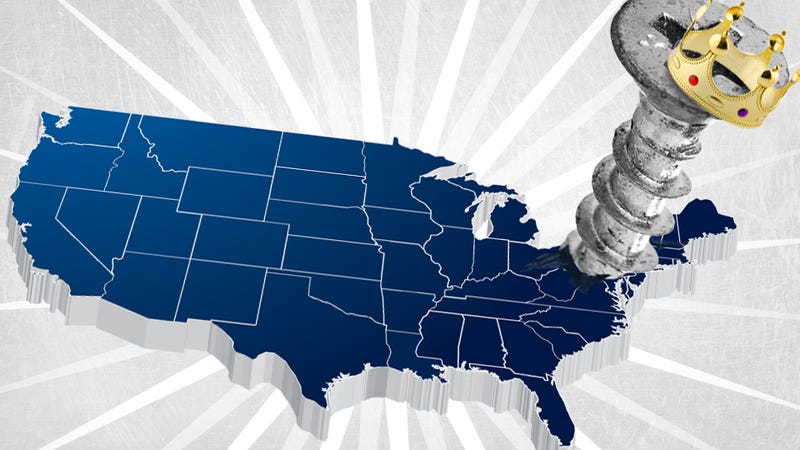 People often split up NFL fanbases by state. As in: Michigan=Lions, Wisconsin=Packers, Illinois=Bears. There are two reasons for this. First, it's easy. We're used to looking at maps and dividing stuff up along state lines (like electoral votes). Second, most major college sports are dominated by large state schools, with rivalries that often do follow these lines.
One thing that TV schedulers do well—and they do a lot of stuff wrong—is recognize that this often isn't the case for professional sports. Largely ignoring state boundaries, they more often assume that people root for teams they're close to. This works pretty well in most cases, but when this assumption is wrong, well, that's when people start getting screwed.
Before we get to which market got screwed the worst this season, consider the map below, which shows NFL team territories if every fan rooted for the team closest to him or her (as the crow flies). Obviously this map isn't a perfectly accurate depiction of NFL fanbases, but it's a good jumping-off point for looking at the process that went into dividing the country into NFL TV markets.
As we saw week after week, the places most likely to get screwed were equidistant from two crappy teams and ended up with games for both. It's not hard to pick out 2012's crappy teams: 10 finished with double-digit losses, and these same 10 had the league's lowest point differentials. Recoloring our map to highlight these 10 losers—with the six borders between two bad teams marked—we get this: